Admissions representatives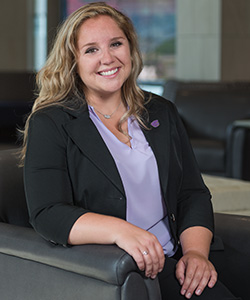 Callie White
Email: kstate11@k-state.edu
Phone: 785-532-1521
My territory
Houston, San Antonio and El Paso
Call today to schedule your campus visit and get a glimpse of the K-State experience. We hope to welcome you soon as the newest member of our Wildcat family!
Fast facts
Major: Communication studies
Minor: Leadership studies
Hometown: Derby, Kansas
College activities: Lambda Pi Eta Honor Society, Communication Studies Ambassadors, College of Arts and Sciences Ambassadors, Education Abroad
My K-State experience
When I arrived at K-State, I didn't feel like I was leaving home but gaining a new one. I attended Wildcat Warm-up the weekend of my Orientation and Enrollment and met some fantastic people. I fell in love with this place and my new Wildcat family.
Learn more about Callie
The defining moment
I knew K-State was right for me was when I was at Wildcat Warm-up and realized I hadn't thought about anything that was stressing me. I was able to let go and felt like I was where I needed to be.
Why K-State stands out
K-State is different from other schools because the people here go out of their way to make sure you feel like you belong. Everyone wants to see you succeed and encourages you to work hard to make your dreams a reality.
Where I take guests
I like to show out-of-town guests the Varsity Donut truck for a tasty late-night snack and Top of the World. The views are beautiful up there.
Why K-State is special to me
Everyone talks about the sense of family, but it really is true — I feel it wherever I go on campus. There's a lot of pride in being a K-Stater. Rarely will you come across anyone wearing a Powercat who is in a bad mood. We work hard to be inclusive and make sure everyone feels like they have a place at K-State.
I never imagined …
Before coming to K-State, I never would have guessed I would study abroad. I always thought that kind of a dream was for other people, but K-State put that opportunity within my reach. I'll be forever grateful for that amazing experience.
How I chose my major
I was taking a ton of different classes but could not determine which major was the right fit. I was taking a handful of communication studies courses and fell in love with the department, professors, students, classes — everything. I became more involved and declared my major in communication studies from there.
My favorite class
The coolest class I took at K-State was Intercultural Communication. I took it during my study abroad experience and I learned so much. The curriculum was focused on reading books about places we were visiting and to interact with the people we encountered.
Getting involved
Attend the fairs to find organizations that interest you. You do not necessarily have to "go Greek" to be involved. There are more than 475 clubs at K-State, and I promise there is at least one for you. Get to know the people around you, and do not be afraid to reach out.
Making a good impression
When getting to know your professors, never underestimate the importance of good email etiquette.
You'd never guess …
At first glance, people may not guess how much I know about aquatics. I've worked at an aquatic facility for six years and I've learned so much — everything from multiple certifications to the mechanisms in the pump room. I'm passionate about water safety.
How K-State has changed me
K-State has given me an open mind and an appreciation for people from all around the world. This university has provided me with opportunities to be a successful professional, such as workshops and classes, and tools to make a smooth transition into the real world. I have met some of the most amazing people here at K-State and I cherish those relationships dearly.
Favorite local meal
I could eat the Taquiza meal at El Tapatío every day of my life. I love the steak, chicken and chorizo options, plus it comes with onion, cilantro, lime and a homemade sauce. It is delicious. I had it four times in a week once!