Admissions representatives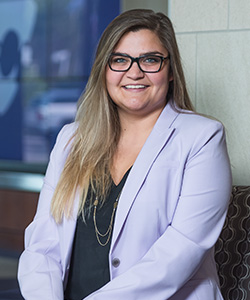 Nicole Bartel
Email: kstate1@k-state.edu
Phone: 785-532-1521
My territory
Northwest Kansas, Nebraska, Montana, Arizona, Utah, New Mexico, and Wyoming
Call today to schedule your campus visit and get a glimpse of the K-State experience. We hope to welcome you soon as the newest member of our Wildcat family!
Fast facts
Major: Psychology
Minor: Spanish
Hometown: Rancho Palos Verdes, California
College activities: K-State Club Lacrosse Team, Cat Crew, Psi Chi International Honor Society, Visual Cognition Research Laboratory
My K-State experience
I attended K-State because it gave me an opportunity to go far from home while still feeling comfortable in a smaller community like Manhattan. I was looking for a change of pace from Los Angeles, and Manhattan definitely fit the bill.
Learn more about Nicole
What sealed the deal
On my first visit, I had accidentally signed up for a Junior Day when I was a senior in high school. I noticed at the last minute and canceled my visit, instead scheduling a regular visit for the same time. I was upset that I would not be able to see everything since I assumed everyone would be busy with Junior Day. To my surprise, I was still able to see all of the departments in which I was interested and got answers to all my questions. Everyone was so friendly and accommodating that I thought about my visit weeks after I got back home.
My defining moment
I realized K-State was right for me playing a game of spoon tag with my entire residence hall — a silly game where everyone is given a plastic spoon and the name of another resident that you had to catch without their spoon. It was a solid week or so where there was an odd amount of people walking around campus with plastic spoons in their hands and seeing another plastic spoon on campus just brought a smile to my face. Although the game was silly, I ended up meeting a bunch of people who lived in my residence hall. A little plastic spoon connected me to so many different people and always made me laugh. It definitely showed me that I was surrounded by my kind of people.
The K-State difference
K-State is different from other schools because of its community and atmosphere. There is such a welcoming feeling on campus and throughout Manhattan that it truly becomes a home away from home for students. Being from California, I was only able to go home during winter and summer breaks, but I never felt alone. I met people from Kansas and across the world who became like family. After my first semester, instead of counting down the days until going home, I found myself counting down the days to head back to Manhattan and be surrounded by purple again.
Why K-State is special to me
Three things that make K-State special to me are the commitment to student success, the friendliness of our community and the Wildcat pride. The commitment to student success goes beyond just advisors and professors — it's everywhere on campus. It's a community where everyone checks to see if they can hold the door open for the person behind them. Overall, current students and K-State alumni are so proud of their time at K-State. Even when I am back in California wearing a K-State shirt, I'm stopped by alumni who rave about their years at here and their love for K-State.
Top spot on campus
Everyone should visit the K-State Student Union while on campus. There have been to many updates and additions — it just looks fantastic! You can grab a bite to eat, get some Call Hall ice cream, try on new K-State gear and bowl a few frames all in the same place. Hale Library is also a great spot, especially if you're looking for a quiet place to study.
Favorite college hangout
My favorite place to hang out was in the basement of my residence hall. It was a great place where I met new people almost every day and just relaxed. By the end of my time living in the residence halls, it felt like I knew almost everyone who lived there.
You may not guess…
Most people wouldn't guess that I speak Spanish. I was raised in a bilingual home and had the privilege of learning both English and Spanish growing up. I also really enjoy doing anything crafty and playing board games. Scrolling through new crafty ideas is definitely one of my main hobbies as well as recruiting friends to play Bananagrams.
How K-State has changed me
K-State really pushed me to be more extroverted. Before coming here, I would have described myself as a homebody who enjoyed sitting on the couch with my cat, watching a good movie. After becoming a K-Stater, I started finding outside events where I could put myself out there and meet new people.
Favorite local meal
I could eat anything from JP's Sports Grill in the Jardine Apartment Complex forever — especially the Wefald burger. Mac n' cheese on a burger will always win me over!