Shuttle Service
A shuttle service is provided as a courtesy by the university for eligible students with either a temporary injury or a permanent disability, to assist them in getting to class. To determine eligibility, students should contact Student Access Center.
Setting-Up Rides
Call Area Transportation Agency (aTa) at 785-537-6345; speak with Richard
Let Richard know you were referred by the Student Access Center (SAC)
If Richard is not there, leave a message with your name and number so he can get back to you.
Scheduling Rides
aTa will email a form to you to complete with your pick-up times.
aTa will send an email confirming the pick-up times and when the service will begin (typically within 24 hours).
Riders must wait outside or be visible to driver.
Signs for Pick-up Location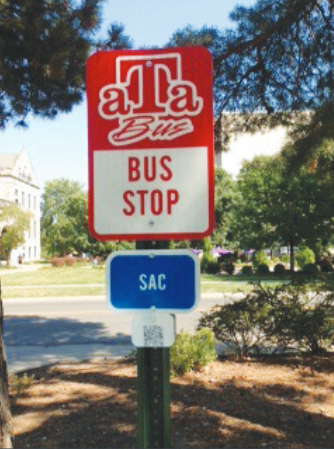 aTa Hours of Operation
Monday through Friday, 7:00 a.m. - 5:00 p.m., when classes are in session.
Call (aTa) during inclement weather to confirm pick-ups.
Canceling Rides
Call (aTa) to cancel any ride at least one hour before your scheduled pick-up time. Add aTa to your phone contacts. There is a $5.00 fee for a no-show.