What's New in Online Teval
A new, updated version of the Online Teval system for instructors only was released on Monday, October 2, 2017. The paper version of Teval and how students complete an evaluation were not changed with this update. A self-paced, online tutorial is available for instructors with complete information about the new version.
What's changed
How instructors access Online Teval and create their evaluations has completely changed. Besides getting a new look, Online Teval now uses the rosters in K-State Online powered by Canvas to determine enrolled students and instructor access. Previously, Online Teval used the primary instructor role on the line schedule from KSIS and employment status from HRIS to determine ability to create evaluations.
Distance courses offered through Global Campus will now use both the Distance Core Questions and the Global Campus template of custom questions by default. Additionally, instructors can no longer combine sections into one evaluation.
New look
Online Teval is now new clean and K-State branded. A wizard now walks you through creating an evaluation. Selecting the availability and reminder dates for your evaluation is simplified with calendar pickers. The updated Online Teval now brings in as much information as possible about your courses and sections, such as dates and times the class meets, the college and department of your course, and your role.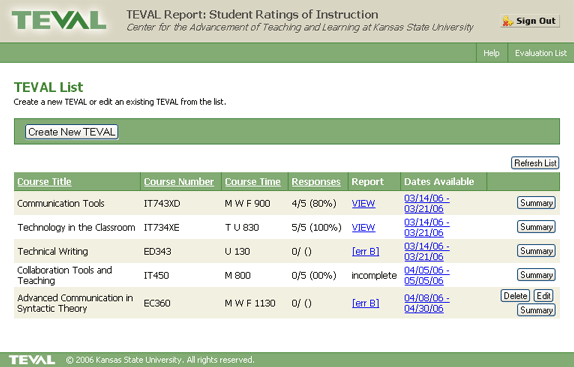 Classic Teval (before)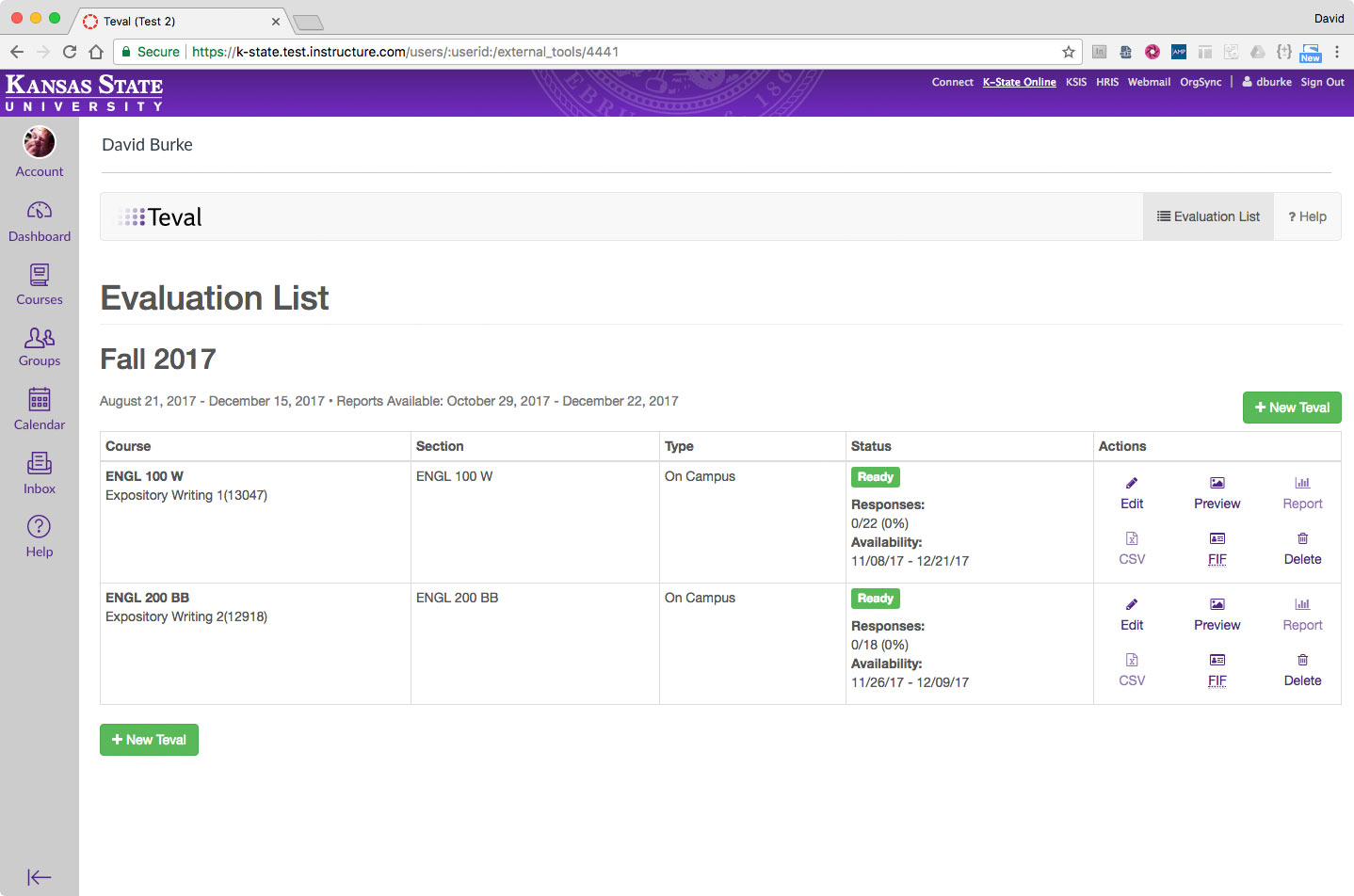 Online Teval (after)
Accessing Online Teval (and your paper Teval results)
The direct link to Online Teval has changed, however, you can still access Online Teval from K-State Online powered by Canvas. Reports from both the paper and online evaluations, are available in Online Teval.
To access Online Teval from Canvas, you must first add the Online Teval app. Follow these step-by-step instructions Adding the Teval app to Canvas.
Instructor role on K-State Online (delegate access feature not needed)
Classic Teval required that you must be the primary instructor on the line schedule and have employment status from HRIS. Primary instructors had to use the delegate access tool in Classic Teval to grant the ability to others to create evaluations for specific courses and sections as well as contact the Help Desk to white list that person in HRIS. This is no longer the case with Online Teval!
Now, you simply must have the role of instructor or teaching assistant on the K-State Online roster for the course and/or section. Anyone with that role, regardless of employment status or line schedule, can create evaluations for themself.
Cannot combine sections
You can no longer combine your sections into a single Online Teval evaluation. Previously, Classic Teval allows you to combine the rosters of multiple sections. This change was implemented to primarily ensure that on campus and distance sections were not evaluated together. Please contact the Teaching & Learning Center with concerns or questions regarding this change.