RecycleMania

RecycleMania is a friendly competition and benchmarking tool for college and university recycling programs to promote waste reduction activities to their campus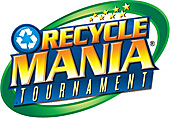 communities. Over an 8-week period each spring, colleges across the United States and Canada report the amount of recycling and trash collected each week and are in turn ranked in various categories based on who recycles the most on a per capita basis, as well as which schools have the best recycling rate as a percentage of total waste and which schools generate the least amount of combined trash and recycling.
RecycleMania 2016 results
Kansas State University finished second in the Big 12 and 90th out of 208 schools overall in the 2016 RecycleMania competition, an improvement from last year.
While recycling rates decreased by 3 percent during the February through March competition period, K-State's total refuse rate decreased by 21 percent. This means that the total weight of items going to the landfill was reduced. Total food waste also decreased by 14 percent.
These outcomes demonstrate that the teamwork among colleges, departments and Housing and Dining Services can have positive outcomes on K-State's sustainable stance as a campus community. Let's work to keep this effort up, not only during RecycleMania, but throughout the entire year.
Thank you to the K-State community for such a great effort.
K-State RecycleMania Results 2010 to 2014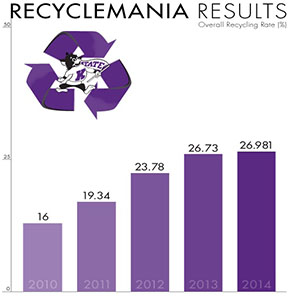 See specific K-State RecycleMania data for years 2009 to 2014 (PDF)
How can you help?
Several K-State groups are currently participating in the program; SEA (Students for Environmental Action) and the K-State Greeks Going Green Campaign. You are welcome to join their efforts or even start your own.
Here is what you can do...
Request desk-side recycling bins (if you don't have them already) by calling Facilities at 532-6446 or e-mailing recycles@ksu.edu
Place recycling receptacles next to your copy machines
Use existing recycling bins in your building, at the rec center and on campus. New bin racks have been placed around campus especially for RecycleMania.
Practice the 3-R's - Reduce, Reuse, Recycle
What is being recycled as part of RecycleMania?
Mixed Paper - such as white, colored, glossy paper, index cards, computer paper
Magazines
Phone Books
Cardboard
Newspaper
Plastic containers, #1 trough #7
Aluminum cans
Glass bottles
Tin/steel cans
Food Waste - food prep waste collected from Housing and Dining Services used for compost
E-Waste - computers, printers, screens, keyboards, CDs, DVDs, and most portable media