RecycleMania
RecycleMania is a friendly competition and benchmarking tool for college and university recycling programs to promote waste reduction activities to theircampus communities. Over an 8-week period each spring, colleges across the United States and Canada report the amount of recycling and trash collected each week and are in turn ranked in various categories based on who recycles the most on a per capita basis, as well as which schools have the best recycling rate as a percentage of total waste and which schools generate the least amount of combined trash and recycling.
K-State wins Big 12 Recyclemania competition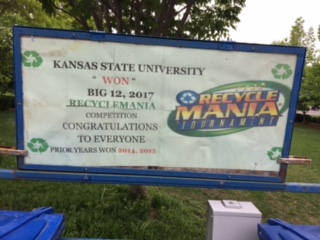 Dear K-Staters,
Kansas State University has dominated the 2017 Big 12 Recyclemania competition. During this year's competition, we have exceeded our recycling goals thanks to you! From February to March we had a diversion rate of 37.334 percent. K-State's recycling increased from 60,919 pounds to a new grand total of 423,271 pounds. We do more than meet the standard, we exceed it.
Thanks to everyone, we all make a difference.
Bill Spiegel
Program Manager
What is being recycled as part of RecycleMania?
Mixed Paper - such as white, colored, glossy paper, index cards, computer paper
Magazines
Phone Books
Cardboard
Newspaper
Plastic containers, #1 trough #7
Aluminum cans
Glass bottles
Tin/steel cans
Food Waste - food prep waste collected from Housing and Dining Services used for compost
E-Waste - computers, printers, screens, keyboards, CDs, DVDs, and most portable media