K-State Recycling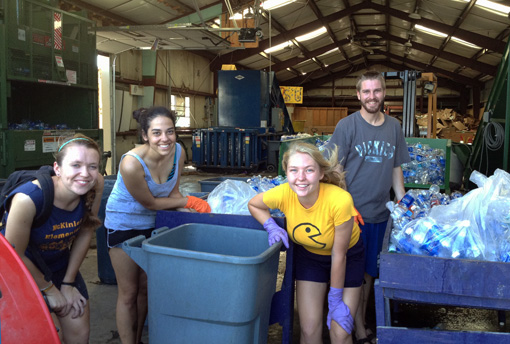 Gameday Recycling crew at the K-State Recycling Center sorting bottles and cans after a home fooball game.
The Recycling Program (PDF) started in 1989 and is coordinated through the Division of Facilities. Grants from the Kansas Department of Health and Environment (KDHE), Alcoa, Pepsi, Coca Cola, and City/University funds made it possible to purchase recycling equipment, such as trailers, a side-load collection truck, collection bins, carts, and balers to process the material.
In 1998, the K-State Recycling Committee was formed, comprised of faculty, staff, student and Division of Facilities representatives. The committee's goal is to help expand recycling efforts across the campus and by doing so, create a more environmentally friendly campus, minimize the waste stream and decrease waste management costs.
In 2008, the former Wind Erosion Research building was damaged by a tornado and in 2012 became the new K-State Recycling Center.
One Stop Drop - Going Single-Stream in 2013
In the spring of 2013, K-State is implemented a single-stream recycling system to facilitate recycling on campus. This resulted in a huge improvement of the recycling rate on campus as people do not have to sort their recyclables into various bins anymore.
Waste vs Recycling - Where are We?

RecycleMania
February 1, 2016
RecycleMania is here
The RecycleMania competition starts Feb. 1 and continues through March 30. The university has more than 66 outdoor blue recycle bins outside the university grounds and countless inside the buildings. Fifty-six blue recycling bins are throughout the residence halls and 48 throughout Jardine Apartments.
Items that can be recycled include all plastics, #1-#7, all papers products, aluminum and tin cans. Cardboard and glass will be accepted in separate bins where allocated. In addition, there are six large blue recycling containers at the K-State Recycling Center located behind Weber Hall.
Let's keep the drive alive and win the Big 12 recycling competition again this year. Go to the RecycleMania page for more information and results.