Kansas State University is Big 12 champions in recycling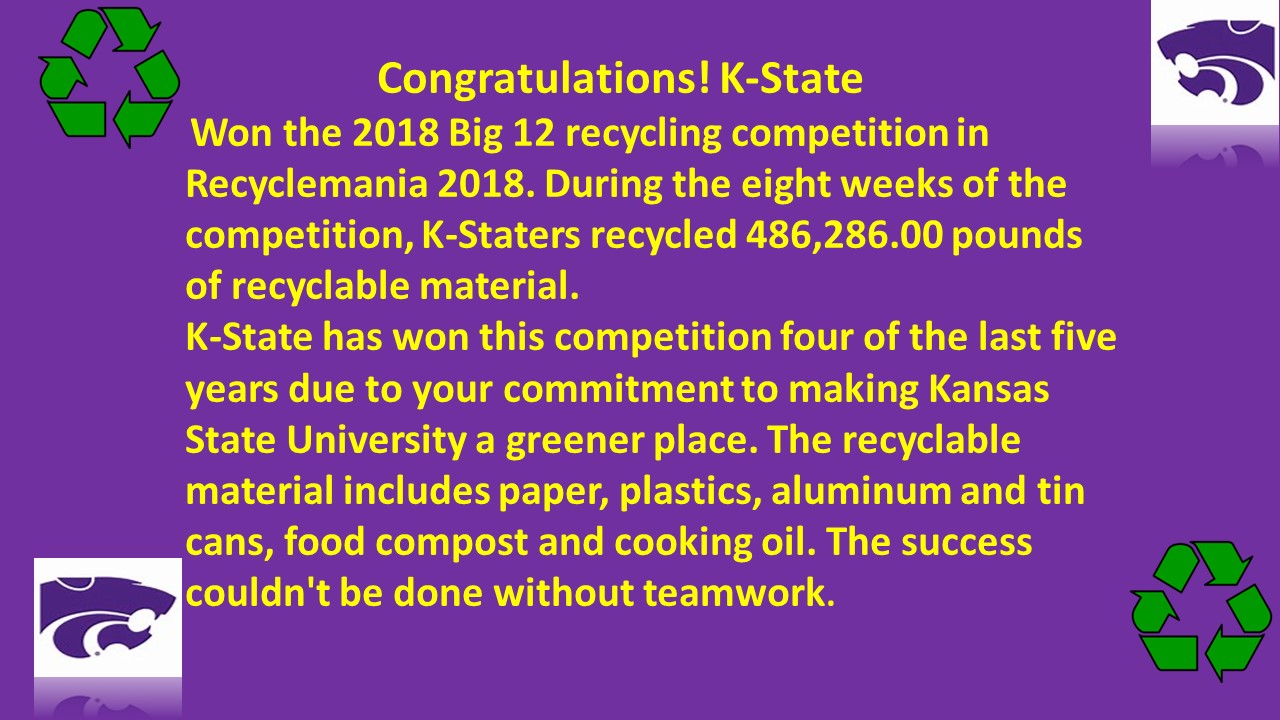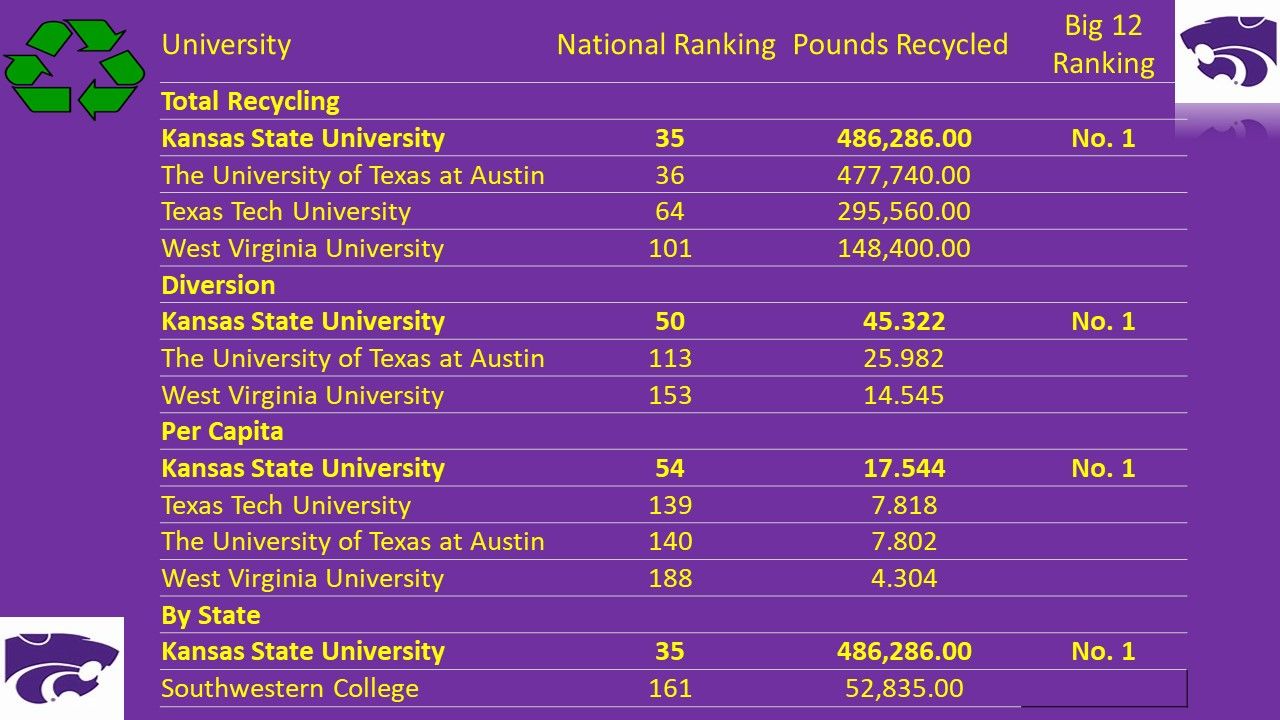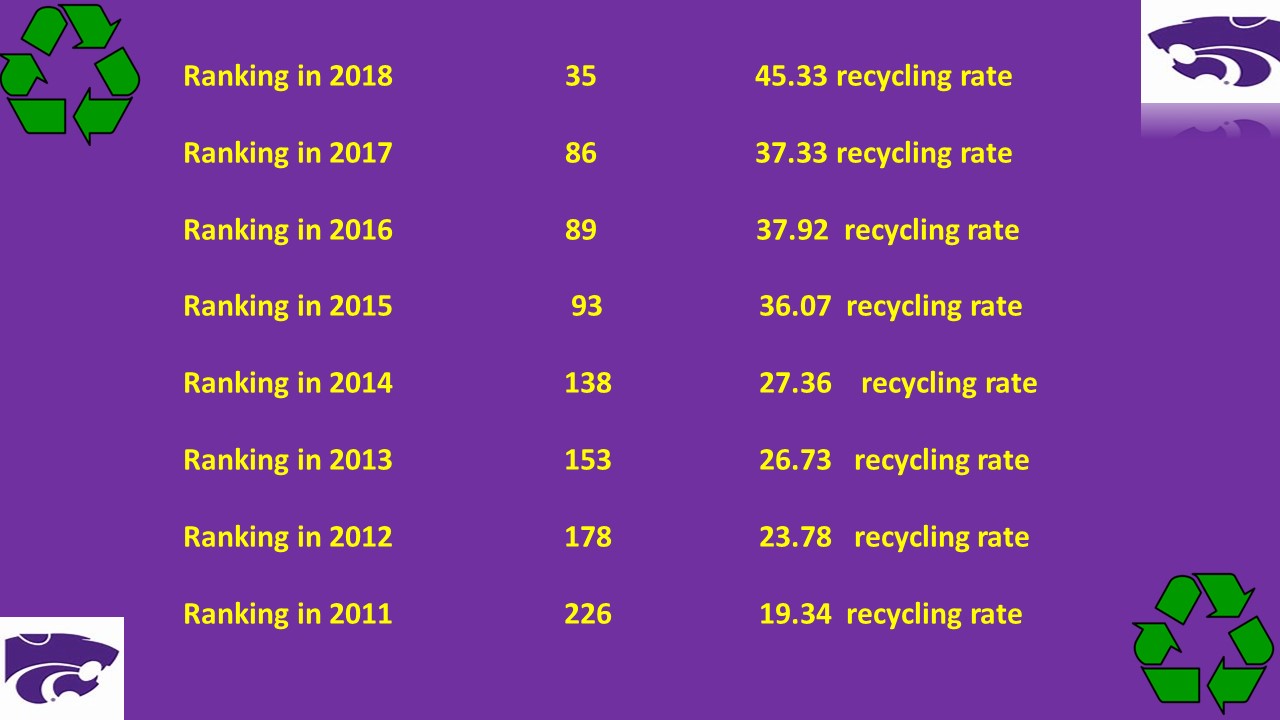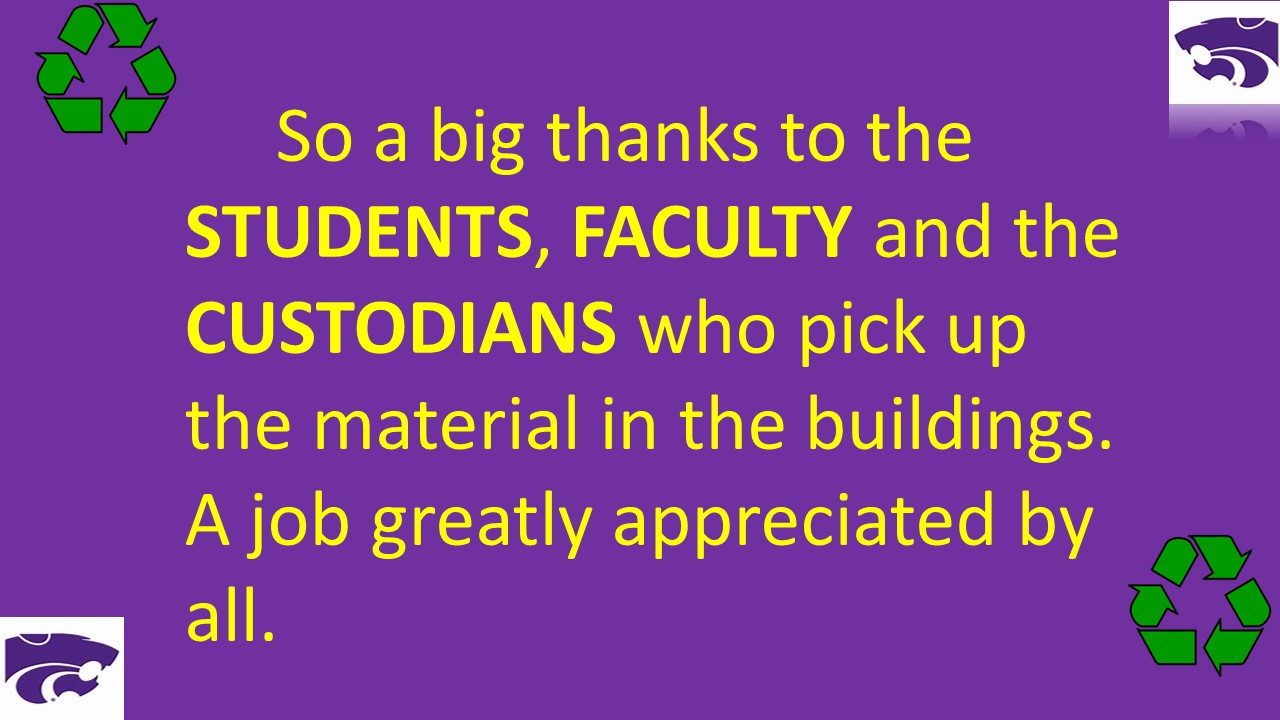 K-State Recycling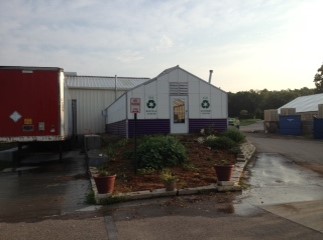 The Recycling Program (PDF) started in 1989 and is coordinated through the Division of Facilities. Grants from the Kansas Department of Health and Environment (KDHE), Alcoa, Pepsi, Coca Cola, and City/University funds made it possible to purchase recycling equipment, such as trailers, a side-load collection truck, collection bins, carts, and balers to process the material.
In 1998, the K-State Recycling Committee was formed, comprised of faculty, staff, student and Division of Facilities representatives. The committee's goal is to help expand recycling efforts across the campus and by doing so, create a more environmentally friendly campus, minimize the waste stream and decrease waste management costs.
In 2008, the former Wind Erosion Research building was damaged by a tornado and in 2012 became the new K-State Recycling Center.
---
---
K-State students receive an 'A' in recycling
Congratulations students! During fall 2017 move-in, K-Staters recycled 7.54 tons of recyclable material, which comprised of cardboard, paper products, plastic material No. 1-7 and aluminum cans while only 4.5 tons went to the landfill.
In the four years that the Recycling Center has been exercising this effort, this was by far the best year with a more than 62 percent diversion rate for move-in.
With great coordination with students, housing and dining and recycling staff, we all make a difference.
Below is the history of move-in results.
| | | | |
| --- | --- | --- | --- |
| Year | Weight of recycling (tons) | Weight of garbage (tons) | Diversion rate (percent) |
| 2014 | 3.53 | 7.7 | 31.4337 |
| 2015 | 6.23 | 8.48 | 42.3521 |
| 2016 | 11.3 | 14.53 | 43.7476 |
| 2017 | 7.54 | 4.5 | 62.62 |

Now let's continue this outstanding job throughout the year in our numerous blue recycling bins throughout the university. A job well done!
Bill Spiegel
Project Manager
---
Recycling Center releases 2017 move-out data
The K-State Recycling Center, working with Housing and Dining Services, had an outstanding move-out recycling campaign for 2017. With great coordination throughout housing and many hours planning and implementing, it shows K-Staters are making a difference.
Below are the results from 2014-2017. Thanks to all, we are making a difference.
| | | | | |
| --- | --- | --- | --- | --- |
| Move-out data | 2014 | 2015 | 2016 | 2017 |
| Clothes/bedding | 397 | 796 | 936 | 1,241 |
| Books | 117 | 139 | 132 | 1,576 |
| Food | 576 | 0 | 310 | 637 |
| Recycle material | 1,210 | 0 | 9,560 | 8,389 |
| | | | | |
| Total | 2,300 | 935 | 10,938 | 11,843 |
| | | | | |
| Refuse total | 59,500 | 56,860 | 42,440 | 42,100 |
| | | | | |
| Diversion rate | 3.72 percent | 1.61 percent | 20.49 percent | 21.95 percent |