K-State Recycling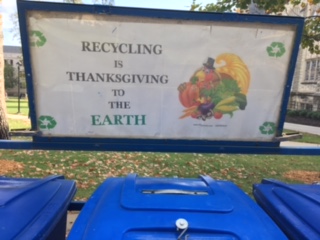 The Recycling Program (PDF) started in 1989 and is coordinated through the Division of Facilities. Grants from the Kansas Department of Health and Environment (KDHE), Alcoa, Pepsi, Coca Cola, and City/University funds made it possible to purchase recycling equipment, such as trailers, a side-load collection truck, collection bins, carts, and balers to process the material.
In 1998, the K-State Recycling Committee was formed, comprised of faculty, staff, student and Division of Facilities representatives. The committee's goal is to help expand recycling efforts across the campus and by doing so, create a more environmentally friendly campus, minimize the waste stream and decrease waste management costs.
In 2008, the former Wind Erosion Research building was damaged by a tornado and in 2012 became the new K-State Recycling Center.
---
---
Recycling program wins 2016 Big 12 Conference Gameday Challenge
Thanks to your efforts, K-State's recycling program won the Big 12 Conference Gameday Challenge for the 2016 football season.
Results for the conference diversion rate percent:
Kansas State University 9/17 Florida Atlantic 16.642 percent.
University of Oklahoma Norman Campus 11/12 Baylor 10.641 percent.
West Virginia University 10/22 Texas Christian University 3.186 percent.
This was a great team effort from everyone who attended the football games during the 2016 season. Let's continue these efforts throughout the 2017 school year.