K-State Recycling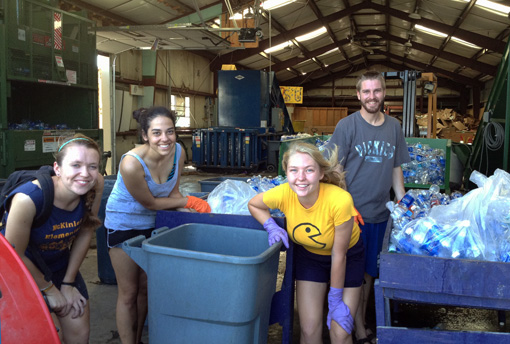 Gameday Recycling crew at the K-State Recycling Center sorting bottles and cans after a home fooball game.
The Recycling Program (PDF) started in 1989 and is coordinated through the Division of Facilities. Grants from the Kansas Department of Health and Environment (KDHE), Alcoa, Pepsi, Coca Cola, and City/University funds made it possible to purchase recycling equipment, such as trailers, a side-load collection truck, collection bins, carts, and balers to process the material.
In 1998, the K-State Recycling Committee was formed, comprised of faculty, staff, student and Division of Facilities representatives. The committee's goal is to help expand recycling efforts across the campus and by doing so, create a more environmentally friendly campus, minimize the waste stream and decrease waste management costs.
In 2008, the former Wind Erosion Research building was damaged by a tornado and in 2012 became the new K-State Recycling Center.
Recycling available for students moving out
Students,
Let's get an "A" in closing out the semester year. When clearing your residence hall rooms or Jardine housing, please utilize the numerous ways you can recycle before departing. Each bin has a banner that states recycling and one for landfill.
Two large roll-offs are available by each residence hall, the smaller roll-off is for recycling material only —cardboard, plastics Nos. 1-7, paper and aluminium/tin cans. The taller roll-off is for all non-recyclable material.
Each residence hall lobby has blue recycling toters for clothes, nonperishable food products, books and bedding. In addition, a large brown box by each roll-off is for electronic devices that are no longer in working condition.
Furthermore, place all unwanted furniture in the orange fences near each residence hall.
Have a safe and wonderful summer,
Bill Spiegel