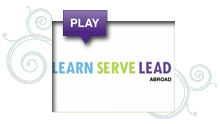 International Service Teams is a service-learning program of interdisciplinary teams of Kansas State University students who serve in communities around the world during the summer break. International Service Teams students work with international partners to plan and implement service projects during an eight to ten week stay in their international country. Over the past 21 years, International Service Teams has served in communities worldwide through the development of service-learning initiatives based on specific community identified needs. Previous projects have focused on health, education, environmental and sustainability concerns, and youth development. Service team members gain leadership experience and develop an appreciation for unique cultures and perspectives during their spring semester and summer of service.
APPLY NOW to serve on a 2014 Summer International Service Team. Applications Due Oct. 25th.
To Learn More... Come and join us at our informational sessions coming up!
Monday Oct. 14, 3 p.m. in room 113
Thursday Oct. 17, 2:30 p.m. in room 229
Monday Oct. 21, 3 p.m. in room 113
We are serving in:
Puebla, Mexico
For the past 6 years teams have served in Puebla, Mexico alongside local university partner, UPAEP. Students serve and live in the nearby community of La Preciosita. Their service includes developing community English language and sustainability programs for youth and adults while also learning traditional cultural practices.
Ocean View, South Africa
In Ocean View, South Africa, students work with an organization called Volunteer Mzansi. Each team member is placed at a different project in Ocean View and lives with a host family in the community. Service ranges from assisting in classrooms to working alongside health professionals and community centers.
Cabarete, Dominican Republic
This year students will work with an organization called The Dream Project in Cabarete. Students will be advocates for educational empowerment as they come alongside The Dream Project as counselors for a summer program for at-risk youth. Additionally, students will expand their language as they learn the culture of the Dominican Republic.
Corralitos, Ecuador
This year students will be serving in El Oro as they learn the culture of Ecuador. Students will work to develop community English language through organized classes, while building relationships with community members.
Congratulations to the 2013 IST members.
Team Fikira (Kenya)

Kelsey Ritz

Teryn Greer

Taran Carlisle

Stevie St Clair

Team Sonrisa (Mexico)

Rachel McAdam

Emily Stolfus

Ronnie Sullivan

Team Ubuntu (South Africa)

Carolyn Gatewood

Lindsy Ligget

Lindsay Albracht

Stephanie Wilson

Uganda Research Team

Anna Clary

Cori Christopherson

Grant Kohlmeier

Maggie Burger

Chase Fortune

Danielle Crossland

Team Paz
(Formerly Brazil)

Kaitlyn Burton

Tricia Brensing

Kaitlyn Rippel

Sydney Webb

Plans changed!

This team joined Team Ubuntu!Click on their video to the left to view their journey!