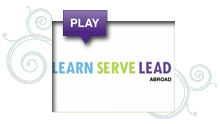 International Service Teams is a service-learning program of interdisciplinary teams of Kansas State University students who serve in communities around the world during the summer break. International Service Teams students work with international partners to plan and implement service projects during an eight to ten week stay in their international country. Over the past 21 years, International Service Teams has served in communities worldwide through the development of service-learning initiatives based on specific community identified needs. Previous projects have focused on health, education, environmental and sustainability concerns, and youth development. Service team members gain leadership experience and develop an appreciation for unique cultures and perspectives during their spring semester and summer of service.
We are serving in:
Ocean View, South Africa
In Ocean View, South Africa, students work with an organization called Volunteer Mzansi. Each team member is placed at a different project in Ocean View and lives with a host family in the community. Service ranges from assisting in classrooms to working alongside health professionals and community centers.
Cabarete, Dominican Republic
This year students will work with an organization called The Dream Project in Cabarete. Students will be advocates for educational empowerment as they come alongside The Dream Project as counselors for a summer program for at-risk youth. Additionally, students will expand their language as they learn the culture of the Dominican Republic.
Now Accepting Applications for Summer 2015
Applications and references for the 2015 International Service Teams are due Friday, October 31st at 12:00 PM.
We also invite you to attend one of our information sessions:
Oct. 14th 8:00 PM Leadership Studies room 111
Oct. 16th 2:30 PM Leadership Studies small conference room
Oct. 20th 3:30 PM Leadership Studies room 112
Congratulations to the 2014 IST members.
Team Esperanza
(traveling to Mexico)

Brooke Cooper
Wade Gutierrez
Emma Miller
Shandell Gallardo

Team Saam
(traveling to South Africa)
Brady Armstrong
Ellen Harley
Autumn Snesrud
Tyler Bedell
Jasmine Bannister
Kristen Doberer
Sara Curran

Team Sueno
(traveling to Dominican Republic)
Jill Applegate
Adriane Barry
Courtney Chacon
Natalie Gonzales