Academic Mentors
Academic Mentoring is a program activity of HandsOn Kansas State focused on the academic success of youth in the Greater Manhattan community. K-State students eligible for Federal Work-Study are placed in school and community-based classrooms/programs that promote and support teachers, staff, volunteers and parents to promote and support academic skills, family literacy and positive youth development. Academic Mentors contribute 10 hours a week for a minimum of 25 weeks at 17 local schools and community organizations, serving over 2000 children a year.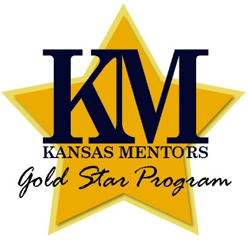 In February 2012, Academic Mentoring was recognized as a Kansas Mentors Gold Star program. This state recognition identifies mentoring programs who provide a safe and effective mentoring environment for the youth of Kansas.
"(Gold Star programs) recognizes mentoring partners across the state who have committed to maintaining a basic set of standards to ensure a quality mentoring experience. Developed by Kansas Mentors and its Council of Mentors, these standards reflect guidelines set forth in MENTOR/National Mentoring Partnership's Elements of Effective Practice™."
Program Spotlight
Current Hiring New Mentors
Academic Mentoring is currently seeking individuals dedicated to helping children in the Manhattan community. Send applications to amentor@k-state.edu
Global Youth Service Day

Twenty college-aged mentors from HandsOn Kansas State's Academic Mentoring program and one special 4th grader, promoted literacy by collecting gently used children's books from among its 17 community and school based sites in Manhattan, St. George, Wamego and Ogden. The 3-week book drive collected 1,250 books. Books were distributed to parents and children at two community centers that operate tutoring and homework assistance programs. Over 30 children received books after they participated in literacy activities planned and implemented by mentors and student program coordinators. Additional books will be distributed to elementary students in a special reading program during the summer.

A special thanks goes to Rilee, a 4th grader, at one of Manhattan's elementary school who heard about the book drive and wanted to collect books through her school. Her efforts took the book drive to another level by collecting 950 books. Because of her efforts these books will become the first children's books to be distributed by a newly established summer bookmobile serving rural communities surrounding Soldier, KS. t!