Academic Mentors
Academic Mentoring is a program activity of HandsOn Kansas State focused on the academic success of youth in the Greater Manhattan community. K-State students eligible for Federal Work-Study are placed in school and community-based classrooms/programs that promote and support teachers, staff, volunteers, and parents to promote and support academic skills, family literacy, and positive youth development. Academic Mentors contribute 10 hours a week for a minimum of 25 weeks at 17 local schools and community organizations, serving over 2,000 children a year.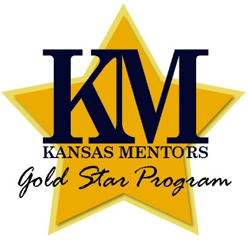 In February 2012, Academic Mentoring was recognized as a Kansas Mentors Gold Star program. This state recognition identifies mentoring programs who provide a safe and effective mentoring environment for the youth of Kansas.
"(Gold Star programs) recognizes mentoring partners across the state who have committed to maintaining a basic set of standards to ensure a quality mentoring experience. Developed by Kansas Mentors and its Council of Mentors, these standards reflect guidelines set forth in MENTOR/National Mentoring Partnership's Elements of Effective Practice™."
Program Spotlight
Current Hiring New Mentors
Academic Mentoring is currently seeking individuals dedicated to helping children in the Manhattan community. Send applications to amentor@k-state.edu