Academic Mentoring is a program activity of HandsOn Kansas State focused on the academic success of youth in the Greater Manhattan community. K-State students eligible for Federal Work-Study are placed in school and community-based classrooms/programs that promote and support teachers, staff, volunteers and parents to promote and support academic skills, family literacy and positive youth development. Academic Mentors contribute 10 hours a week for a minimum of 25 weeks at 17 local schools and community organizations, serving over 2000 children a year.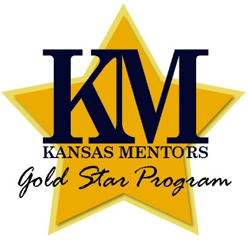 In February 2012, Academic Mentoring was recognized as a Kansas Mentors Gold Star program. This state recognition identifies mentoring programs who provide a safe and effective mentoring environment for the youth of Kansas.
"(Gold Star programs) recognizes mentoring partners across the state who have committed to maintaining a basic set of standards to ensure a quality mentoring experience. Developed by Kansas Mentors and its Council of Mentors, these standards reflect guidelines set forth in MENTOR/National Mentoring Partnership's Elements of Effective Practice™."
Upcoming
Global Youth Service Day

Each year, Academic Mentoring participates in two service projects a year to promote civic learning and engage into the community beyond its role in schools and after-school programs. Global Youth Service Day is a national day of service that wants to demonstrate and celebrate the idea of youth service and the impact it can have on neighborhoods, communities, and the world as a whole. Global Youth Service Day is held on April 11th to the 13th.

This year Academic Mentoring will be implementing the Kansas Volunteer commissions overreaching theme of literacy into our project. The goal is to promote literacy among 17 community and school-based sites throughout the greater Manhattan area and provide families and community centers with books for children to be able to read and enjoy.

From March 31st-April 11th there will be book drives in four sites. These sites are Marlatt Elementary, Center for Childhood Development, St. George Elementary and the Leadership Studies building room 103 on the Kansas State campus. The mentors and children will be learning about the benefits of literacy and the impact it can make on someone's life. Once the drive has been completed the raised books will be donated to local community centers and the children that attend their programs. Informational packets and a book will be handed out at the event to take home and read with their families.
Contact amentor@ksu.edu for more information on Literacy or Global Youth Service Day or for a digital copy of the information packet!