Change a Room Location in the Facility ID Field
Typically rooms are assigned in KSIS as the class is entered into the system. Occasionally circumstances may require a change of location. To change the Facility ID for a class (room location), you should only enter locations that are departmentally controlled. If it is necessary to use a location outside of your department, fill out a request and send it to Sharon Hauck in the K-State Registrar's offices.
Procedures:

Log into KSIS and navigate to

Curriculum Management >

Schedule of Classes >

Maintain Schedule of Classes.


Search for the desired class and click on the Meetings tab.


In the Meeting Pattern area, enter the desired Facility ID. If it is necessary to change the times and days the class occurs, modify the information as needed.


Click Save in the lower left of the page.
Note: If needed, search for the class in KSIS again to verify the changes have taken effect.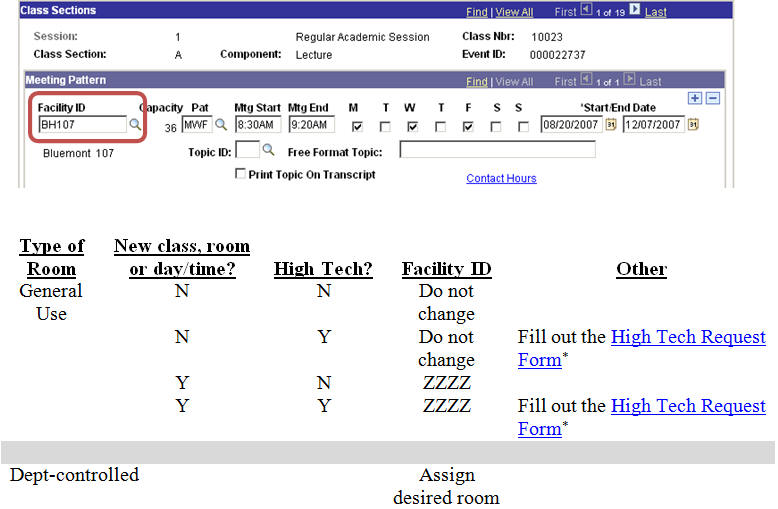 Tips for Requesting a Room:

The assigning departments are responsible for verifying that departmentally-controlled rooms are free of time conflicts.
If there is a change in any way to a reserved General Use High Tech classroom (days, dates or time) the current user of that room loses priority for that room in the scheduling process.
The High Tech Request Form is found at: http://www.k-state.edu/facilities/s25/PFSF.htm.
The High Tech Request form is to accept requests only during the open dates for the Class Scheduling process each semester.