SUCCEED
The SUCCEED program creates opportunities for women to flourish in science, technology, engineering, and math, or STEM, fields. Undergraduate and graduate students can serve as mentors to middle and high school students, share in mentoring connections with alumnae, and network with faculty and other students in STEM.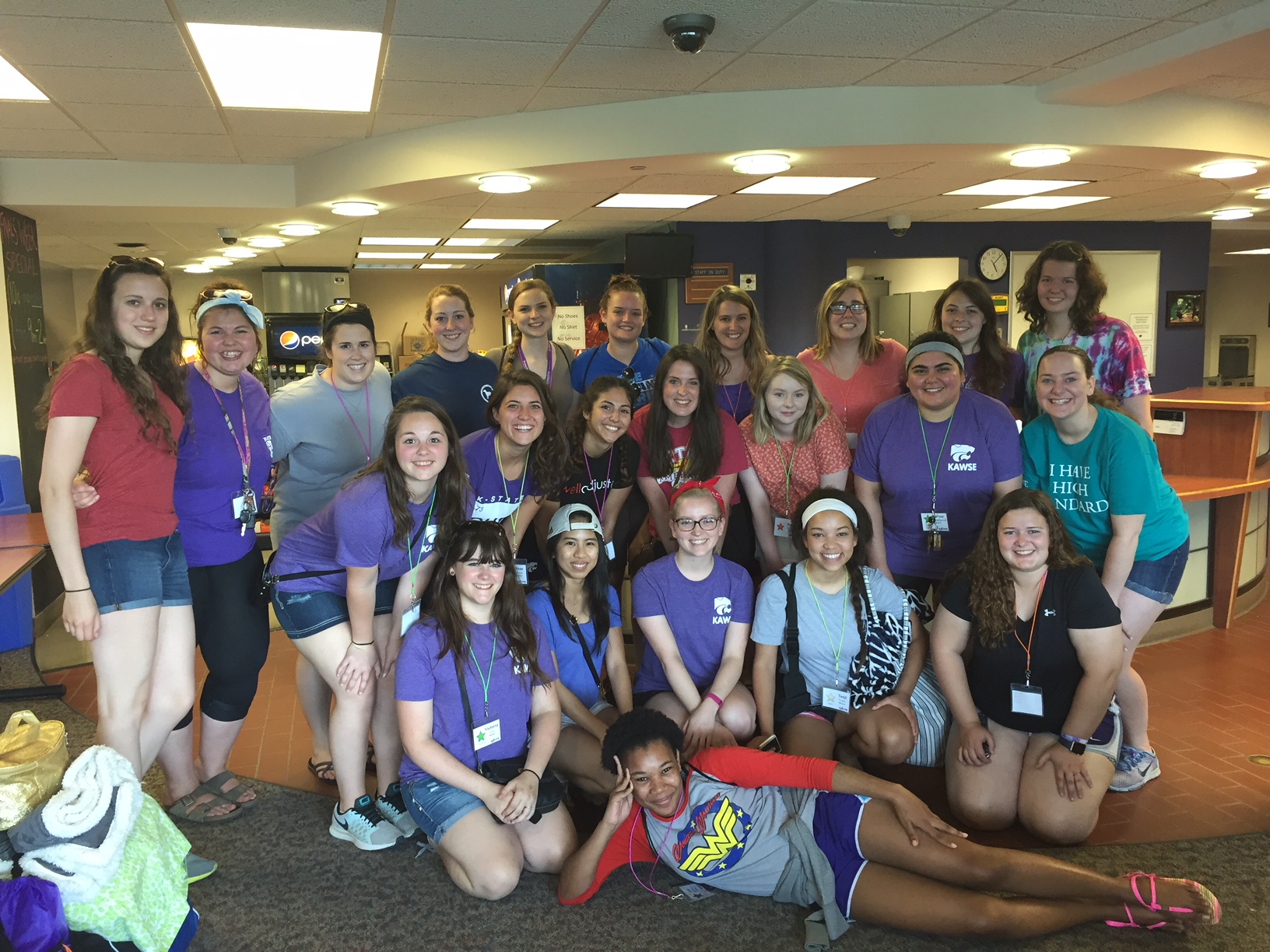 Upcoming Events
Gain professional development and networking through attending our series of events planned for undergraduate and graduate students.
Career Chat with Marilyn McCord
October 28, 2016 - 12:30 pm - BAE Conference Room, Seaton 133
Join us for lunch with Marilyn McCord to gain career advice and mentoring in an informal, discussion-based environment. Marilyn holds several degrees from Kansas State University in Mathematics (summa cum laude, BS, 1960), Curriculum and Instruction (MS, 1978), and Computer Science (MS, 1980). She has taught at the secondary (middle and high school) and post-secondary (college) education levels. She served as a Senior Software Engineer at Texas Instruments (1980-1989), is a published author, and participated with Women in Math & Science group in Beijing as a Citizen Ambassador in 1995. Marilyn is now retired to mostly full-time volunteer activities in Vallecito, CO. This event is intended for undergraduate students, however all interested K-State students are welcome!
Application Writing Workshop
November 1, 2016 - 4:30-6:30 pm - K-State Alumni Center Banquet Room
Spruce up your application writing skills with a free workshop presented by the K-State Alumni Association's Student Alumni Board. Whether you're writing an application for a campus organization, scholarship or internship, you'll learn from the campus experts about how to put your best foot forward. Light refreshments will be served. Click here to learn more.
Gender Stratified Monopoly: Why Do I Earn Less and Pay More?
November 17, 2016 - 2:30-5:30 pm - Student Union Room 227
You've never played Monopoly like this.
In your average game of Monopoly, luck and good strategy determine the winner. In the real world...not so much. What happens when Monopoly meets the real world? In this activity you'll be given a gender, social class, marital status, and even children. Can you still succeed? Join us as we play monopoly and explore the impact of gender and social class in real life.
---
KAWSE Ambassadors
Serving as an Ambassador for KAWSE is a great way to add volunteering experience to your resume! KAWSE Ambassadors can serve in a variety of roles for our office, from representing us at K-State events, to local outreach events, such as science fairs, and so on. One of the most popular Ambassador opportunities is hosting high school students during EXCITE Shadow Days events.
Interested in becoming an ambassador? Contact the KAWSE Program Coordinator, Sara Heiman, at sjheiman@ksu.edu.
---
KAWSE Mentors
Mentors are paid staff members of the KAWSE office who serve as group leaders at our GROW and EXCITE (middle and high school student) workshops. Mentors are responsible for chaperoning a group of students, usually 10-12 at a time, to a schedule of activities set out for them when they sign up for one of our workshops. Mentors are paid hourly and receive a free lunch at events.