SUCCEED
The SUCCEED program creates opportunities for women to flourish in science, technology, engineering, and math, or STEM, fields. Undergraduate and graduate students can serve as mentors to middle and high school students, share in mentoring connections with alumnae, and network with faculty and other students in STEM.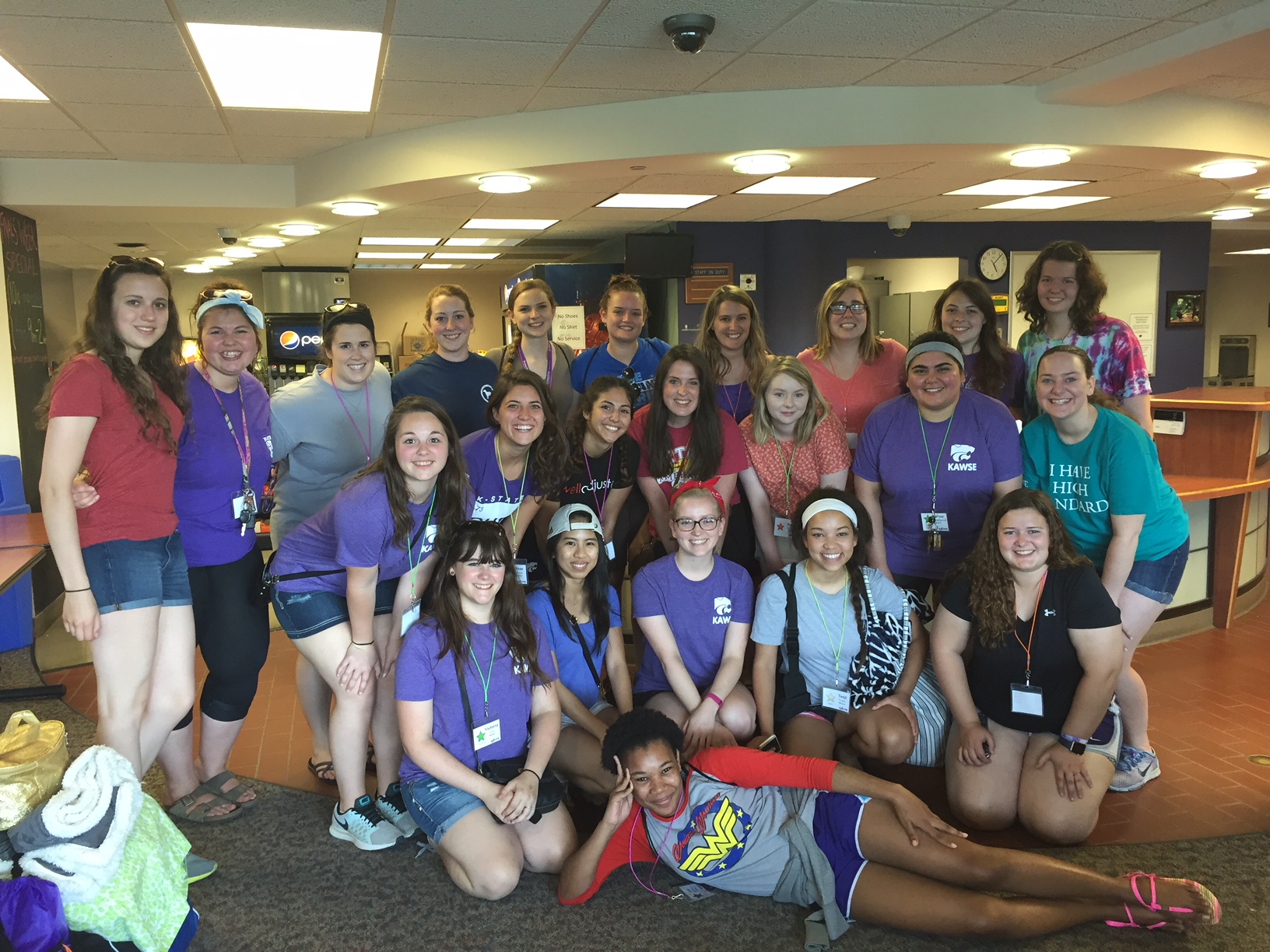 Scholarships
There are many scholarships available to women in STEM fields! We've researched a few you might be interested in and compiled them into a list, which you can access through the link below. While this list is a great starting point, be sure to keep looking, as there are plenty more scholarship opportunities out there!
Upcoming Events
Gain professional development and networking through attending our series of events planned for undergraduate and graduate students.
Welcome Back Social & Angela Davis Lecture
Wednesday, Feb 1st
6:30 p.m.
Union Rm 226
Join the KAWSE office for a pre-lecture social next Wednesday evening as we celebrate the beginning of a new semester and Black History Month. We will serve heavy hors d'oeuvres and use this as an opportunity to meet and network with women in STEM majors at K-State. You are welcome to bring your friends or invite guests! We will also have information about the KAWSE office and our SUCCEED program for undergraduate and graduate students available, including job & volunteer opportunities, as well as upcoming events. From this social, we can travel downstairs together to attend Angela Davis's lecture (see attached poster). Davis is most known for her advocacy for gender equality, prison reform and alliances across color lines. She is the author of nine books, including "Blues Legacies and Black Feminism" and "Are Prisons Obsolete?" If you are interested in attending the social please let us know by RSVP'ing here. You do not have to RSVP to attend.
Facilitate a STEM activity for middle school students
Each semester, KAWSE hosts' Saturday workshops for middle school students to explore a variety of science, technology, engineering, and math (STEM) careers via hands-on activities led by K-State faculty and students. This is done through our middle school outreach program, GROW, and is intended to support and encourage girls' interest in STEM. This Spring, we will be hosting two such workshops, one about the science behind the Olympics (Feb. 25th) and the other about conservation at sustainability (April 22nd). We are looking for volunteers to put together activities for both of these events. If you would like more information about this opportunity, please contact Sara as soon as possible by replying to this email.
Host a high school student for a day
Our EXCITE program brings high school students on campus to experience a day in the life a woman in STEM! Each participant is paired with a current K-State student (that's you!) who is majoring in a field of their interest. Together you and your "shadow" attend class, share a free lunch, tour campus, and discuss what it's like to be in a STEM major at K-State. Our three Shadow Days this semester are Feb. 15, March 15, and April 12th. To volunteer to host a student, please complete the attached document with your Wednesday class schedule and email it to Sara at kawse@ksu.edu.
Olympic Panel II: Secrets of Success
Thursday, Feb 2nd
5:30 p.m.
Union Rm 227
Olympians and Olympic coaches from Kansas State University will take part in the panel discussion "Secrets of Success," sponsored by the Gender, Women, and Sexuality Studies Advisory Board. Free and open to the public, the panel discussion is a prelude to the advisory board's Women's History Month lecture, "Dare to Dream," by Olympic track and field champion Jackie Joyner-Kersee in March. See attached poster. Click here for more information.
Career Fairs, Resume Critiques, & More
Visit K-State's Career Center website to check the dates of upcoming Career Fairs. You can also drop by in the afternoons for a quick look over your resume, or schedule an appointment with an advisor for a more in-depth review. The Career Center offers a variety of services to support you in your professional endeavors!
---
KAWSE Ambassadors
Serving as an Ambassador for KAWSE is a great way to add volunteering experience to your resume! KAWSE Ambassadors can serve in a variety of roles for our office, from representing us at K-State events, to local outreach events, such as science fairs, and so on. One of the most popular Ambassador opportunities is hosting high school students during EXCITE Shadow Days events.
Interested in becoming an ambassador? Contact the KAWSE Program Coordinator, Sara Heiman, at sjheiman@ksu.edu.
---
KAWSE Mentors
Mentors are paid staff members of the KAWSE office who serve as group leaders at our GROW and EXCITE (middle and high school student) workshops. Mentors are responsible for chaperoning a group of students, usually 10-12 at a time, to a schedule of activities set out for them when they sign up for one of our workshops. Mentors are paid hourly and receive a free lunch at events.