Welcome
Kansas Agricultural Mediation Services is here to assist you with your agricultural questions. We have been providing Kansas producers with legal, financial and mediation services for over 25 years.
Call us today! 1-800-321-3276
Iola conference has been rescheduled for March 19, 2015.
What's New

K-State Survey Indicates Lower Farmland Prices, More Non-Performing Loans in the Short-Term Outlook
MANHATTAN, Kansas, Jan. 26, 2015 – The agricultural lender sentiment for the end of 2014 shows that lenders have decreased expectations for the short- and long-term outlook. Respondents of a Kansas State University Agricultural Lender Survey expect farmland prices to decline and non-performing loans to increase. Read more...
A New Partnership Prepares Farmers for Complex Decisions
Farm Service Agency, Jan. 23, 2015 - An important new partnership is preparing agricultural producers for decisions that need to be made soon so farmers can participate in safety-net programs that were created by the 2014 Farm Bill. Congress gave USDA and the Cooperative Extension System a mandate to educate America's farmers and ranchers to help them prepare for managing their annual risks. USDA's Farm Service Agency and the Cooperative Extension System teamed up to host joint meetings all over rural America, offering details on the new programs contained in the farm bill. There are more than 2,900 Extension offices throughout the United States, perfect settings at which educational forums could prepare producers for the decisions ahead of them. Read more...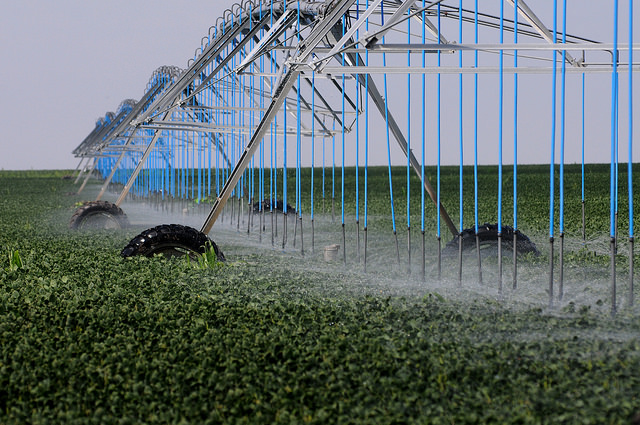 Kansas to Host Central Plains Irrigation Conference Feb. 17-18
COLBY, Kansas, Jan. 22, 2015 – The 2015 Central Plains Irrigation Conference and Exposition will take place Feb. 17-18 at the City Limits Convention Center, Colby, Kansas. The popular annual event focused solely on irrigation-related topics is hosted in Kansas every third year. Sponsors include Kansas State University, Colorado State University, the University of Nebraska and the Central Plains Irrigation Association. Read more...
USDA Reminds Producers of Upcoming Livestock Disaster Assistance Deadline
WASHINGTON, Jan. 21, 2015 — The U.S. Department of Agriculture reminds livestock producers that the Jan. 30, 2015, deadline to request assistance for losses suffered from Oct. 1, 2011 through Dec. 31, 2014, is fast approaching.
Applications for the Livestock Indemnity Program and the Livestock Forage Disaster Program, restored by the 2014 Farm Bill resumed in April 2014, after having expired on Sept. 30, 2011. To date, more than 556,000 applications have been approved to assist farmers and ranchers in recovering from nearly three years of natural disasters.
Read more...