Welcome
Kansas Agricultural Mediation Services is here to assist you with your agricultural questions. We have been providing Kansas producers with legal, financial and mediation services for over 25 years.
Call us today! 800-321-3276
What's New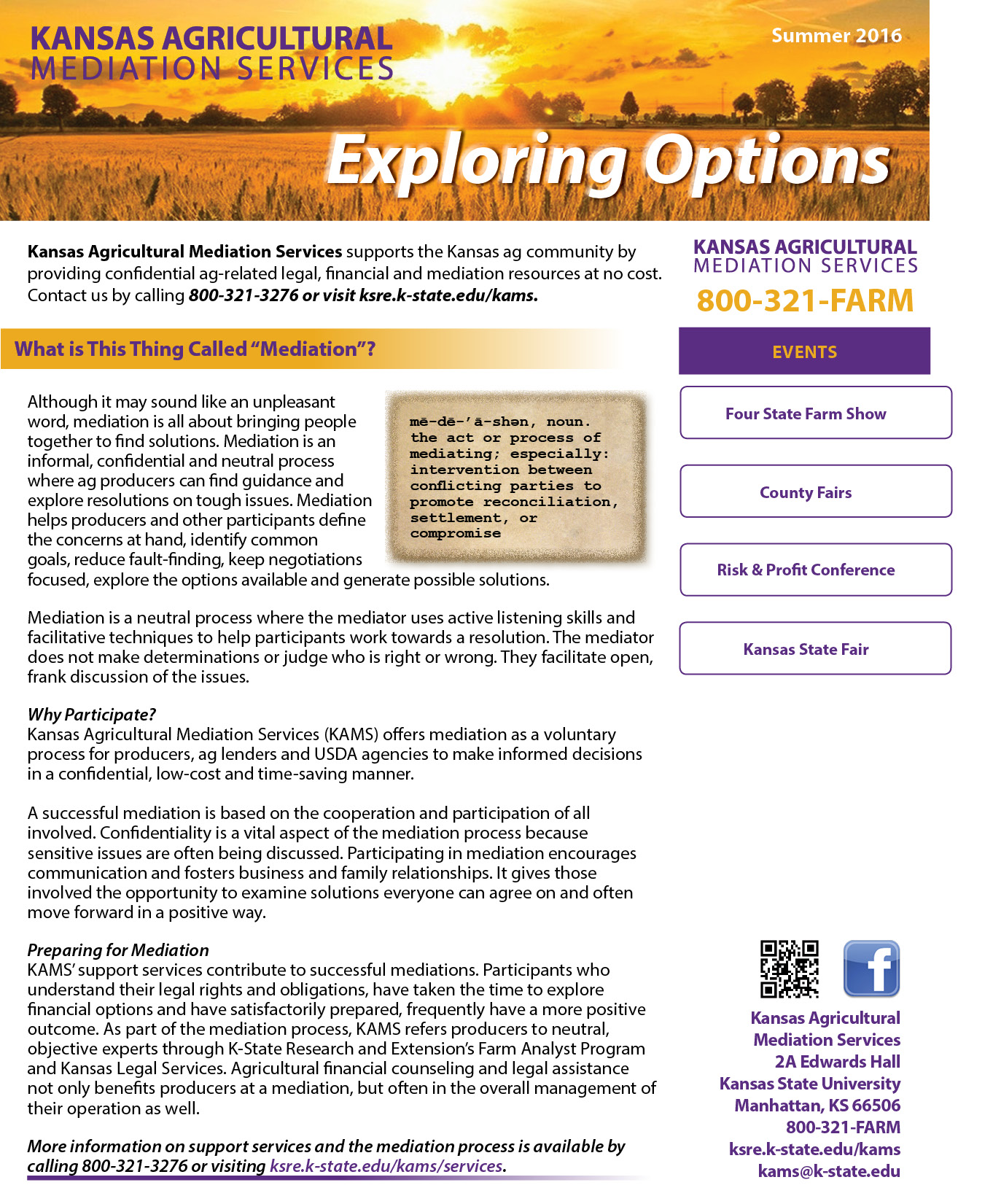 Summer E-news
Learn more about the mediation process, loan restructure and a new website from the USDA.
Managing Tough Financial Times
Farm analyst Duane Hund gives tips to producers on understanding their finances in the midst of tough economic conditions.
Debt Mediators on Call
The Progressive Farmer reports on mediation and the financial outlook for producers with comments from Forrest Buhler, staff attorney with Kansas Agricultural Mediation Services.
In the News
Crop insurance gives farmers more planting flexibility
WASHINGTON, June 23, 2016 – Acting Deputy Secretary of Agriculture Michael Scuse today announced that the federal crop insurance program will provide additional flexibility to farmers. The modifications center on the practice of growing two crops on the same field at different times of the year, which is known as double cropping. Read more...
USDA announces new assistance to help rural utility customers conserve energy, lower bills
WASHINGTON, June 21, 2016 - Agriculture Secretary Tom Vilsack today announced a new program that will help rural residents conserve energy and save money on their utility bills. The new Rural Energy Savings Program (RESP) will make $52 million in loans available to energy providers to help rural families and small businesses reduce their energy use. Read more...
Kansas net farm income plummets, weighed down by falling grain and livestock prices
MANHATTAN, Kansas, Jun. 16, 2016 – Average net farm income in Kansas plummeted to $4,568 in 2015 or less than 5 percent of the previous year's average of $128,731, according to annual Kansas Farm Management Association member data. The 2015 level was the lowest average level of nominal net farm income since 1985. Read more...