Writing Center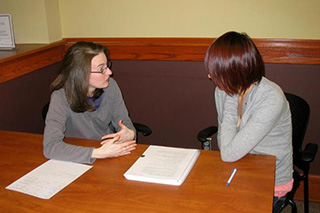 The K-State Writing Center welcomes active discussions with writers from all disciplines and experience-levels across the campus community. We are committed to developing writing and critical thinking through collaborative learning. In one-to-one consultations, students talk about their writing projects with trained writing tutors (most of whom are fellow students). We provide feedback at any stage of the writing process to enable students to gain awareness of writing strategies; improve writing assignments or non-academic writing; and increase their sense of competence, confidence, and ownership in writing.
LOCATION: 122D English/Counseling Services Building
SEMESTER HOURS: The Writing Center will be open for walk-in and scheduled appointments 9:30am-7:00pm on Monday-Thursday and 9:30am-2:30pm on Friday. Online sessions are also available.
WILDCAT WRITING AND RESEARCH CONSULTATIONS: Open sessions with tutors and librarians are offered on Sundays, 6:00 to 9:00 p.m. (on the main floor of Hale Library).
Writing Center Director:
Cydney Alexis
Phone: (785)532-6716
Email: calexis@ksu.edu
Office: 122 English/C.S. Building