Greg Eiselein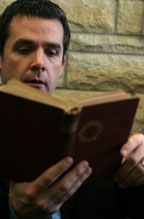 Professor and Coffman University Distinguished Teaching Scholar / Graduate Faculty.
Ph.D. 1993, University of Iowa.
Website: www.ksu.edu/english/eiselei/
Email: eiselei@ksu.edu
Office: English/Counseling Services Bldg. 126A
Phone: (785) 532-0386
Fields of interest:
Early and 19th Century American Literature and Culture; Cultural Studies; Ethnic American Literature; Literary Theory; Poetry; Children's Literature.


Gregory Eiselein is Professor of English and Coffman University Distinguished Teaching Scholar at Kansas State University. He is the author of Literature and Humanitarian Reform in the Civil War Era and numerous articles on American literature and culture. He is also the editor of several books including the Norton Critical Edition of Little Women, The Louisa May Alcott Encyclopedia, Adah Isaacs Menken: Infelicia and Other Writings, and Emma Lazarus: Selected Poems and Other Writings. His current research focuses on Louisa May Alcott, Emma Lazarus, and the intersections of literature, emotion, and the arts in nineteenth-century America.
Greg is also the Director of Kansas State University's first-year experience program, K-State First.