Anna Zolkiewska, Ph.D., Associate Professor
Advisor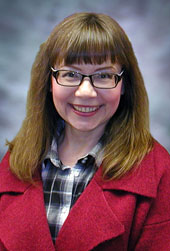 Contact information
Office: 177 Chalmers Hall
Phone: 785-532-3082
Fax: 785-532-7278
E-mail: zolkiea@ksu.edu

Education
M.S. 1984, University of Warsaw, Poland
Ph.D. 1988, Nencki Institute of Experimental Biology, Poland
Areas of specialty
ADAM proteins
Notch signaling
Cancer
The research in our laboratory is focused on the structure and function of ADAM proteins. ADAMs are a large family of metalloprotease-disintegrins which play important roles in development, tissues homeostasis, and many human diseases, including cancer, cardiovascular disorders, asthma, and Alzheimer disease. In particular, we are interested in ADAM12 and its role in breast cancer progression and invasion. ADAM12 is a cell surface protease that sheds soluble growth factors and cleaves several transmembrane signaling molecules, resulting in modulation of the intracellular signaling pathways. TGF&#223 and Notch, two pathways with pivotal roles in mammary oncogenesis, are regulated by ADAM12. Furthermore, ADAM12 expression is strongly induced by TGF&#223, and aberrant expression of ADAM12 is frequently observed in breast tumors. Most importantly, a genome-wide analysis of somatic mutations associated with human breast cancers identified ADAM12 as a breast cancer-related gene. We have shown that breast cancer-associated D301H and G479E mutations cause retention of ADAM12 in the endoplasmic reticulum, are loss-of-function mutations, and have a dominant-negative effect on the wild-type ADAM12.
Some of the questions that we would like to answer are the following:
Why are the breast cancer-associated ADAM12 mutants retained in the ER?
What are the consequences of ADAM12 mislocalization in cancer cells?
How is the expression of ADAM12 regulated in breast cancer?
What effects do ADAM12 mutants have on the secretome and cell surface proteome of breast cancer cells?
What is the exact role of ADAM12 in breast cancer growth and invasion?
Selected publications
Li, H, Duhachek-Muggy, S., Qi, Y., Hong, Y., Behbod, Zolkiewska, A. (2012) An essential role of metalloprotease-disintegrin ADAM12 in triple-negative breast cancer, Breast Cancer Res. Treat., 135, 759-769.
Chen J, Zolkiewska A. (2011) Force-induced unfolding simulations of the human Notch1 negative regulatory region: possible roles of the heterodimerization domain in mechanosensing. PLoS One 6(7):e22837.
Li H, Solomon E, Duhachek Muggy S, Sun D, Zolkiewska A. (2011) Metalloprotease-disintegrin ADAM12 expression is regulated by Notch signaling via microRNA-29. J. Biol. Chem. 286, 21500-2151.
Fukada S, Yamaguchi M, Kokubo H, Ogawa R, Uezumi A, Yoneda T, Matev MM, Motohashi N, Ito T, Zolkiewska A, Johnson RL, Saga Y, Miyagoe-Suzuki Y, Tsujikawa K, Takeda S, Yamamoto H. (2011) Hesr1 and Hesr3 are essential to generate undifferentiated quiescent satellite cells and to maintain satellite cell numbers. Development 138, 4609-4619.
Solomon E, Li H, Duhachek Muggy S, Syta E, Zolkiewska A. (2010) The role of SnoN in transforming growth factor beta1-induced expression of metalloprotease-disintegrin ADAM12. J. Biol. Chem. 16, 285, 21969-21977.
Sun, D., Li, H., and Zolkiewska, A. (2008) The role of Delta-like 1 shedding in muscle cell self-renewal and differentiation. J. Cell Sci. 121, 3815-3823.
Dyczynska, E., Syta, E., Sun, D., and Zolkiewska, A. (2008) Breast cancer-associated mutations in metalloprotease disintegrin ADAM12 interfere with the intracellular trafficking and processing of the protein. Int. J. Cancer 122, 2634-2640.
Zolkiewska, A. (2008) ADAM proteases: ligand processing and modulation of the Notch pathway. Cell. Mol. Life Sci. 65, 2056-2068.
Dyczynska, E., Sun, D., Yi, H., Sehara-Fujisawa, A., Blobel, C. P., and Zolkiewska, A. (2007) Proteolytic processing of Delta-like 1 by ADAM proteases. J. Biol. Chem. 282, 436-444.