John Tomich, Ph.D., Professor
Director of Biotechnology/Proteomics Core Facility
Undergraduate Advisor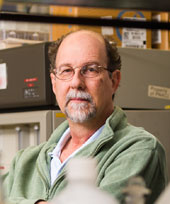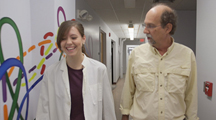 Research Video
Contact information
Office: 206 Burt Hall
Phone: 785-532-5956
Fax: 785-532-6297
E-mail: jtomich@ksu.edu
Lab website
Education
B.A. 1974, University of Connecticut
M.S. 1975, Purdue University
Ph.D. 1980, University of Waterloo
Areas of specialty
The Tomich laboratory designs and characterizes synthetic peptides for potential uses as drugs or renewable biomaterials. The lab employs a number of biologic, synthetic, analytic and physical methods to make these characterizations.
Read detailed research description
Selected publications
Tomich, JM., Bukovnik, U., Layman JS., and Schultz BD. (2012) Channel Replacement Therapy for Cystic Fibrosis in "Cystic Fibrosis", InTech - Open Access Publisher ISBN 979-953-307-059-8.
Bukovnik, U., Gao, J., Cook, GA., Shank, LP., Seabra, MB., Schultz, BD., Iwamoto, T., Chen, J., and Tomich, JM. (2011) Structural and biophysical properties of a synthetic channel-forming peptide: designing a clinically relevant anion selective pore. Biochim, Biophys. Acta Jul 31. [Epub ahead of print]. PMID: 21835162
Herrera, AI., Al-Rawi, A., Cook GA., Prakash, O., Tomich, JM., and Chen, J. (2010) Structural characterization of two pore-forming eptide: consequences of introducing a C-terminal tryptophan. PROTEINS: Structure, Function, and Genetics 78(10):2238-2250. PMC2909830
Martin, J., Devlin, S., Malreddy, P., Iwamoto, T., Freeman, L., Davidson, H., Tomich, JM., and Schultz, BD. (2009) NC-1059, NC-1059 A Channel-Forming Peptide Modulates Drug Delivery Across In Vitro Corneal Epithelium. Invest. Ophthal. Vis. Sci. 50(7):3337-3345. PMID: 19234338
Somasekharan, S., Brandt, R., Iwamoto, T., Tomich, JM., and Schultz, BD. (2008) Epithelial barrier modulation by a forming Peptide. J. Membr. Biol. 222:17-30. PMID: 18418541
van Ginkel, FW., Iwamoto, T., Schultz, BD., and Tomich, JM. (2008) Immunity to Self-derived, Anion Channel-Forming Peptides in the Respiratory Tract. Clinical and Vaccine Immunology 15(2):260-266. PMID: 18094111
Mo, X., Hiromasa, Y., Al-Rawi, A., Warner, M., Iwamoto, T., Rahman, T., Sun, X., and Tomich, JM. (2008) Design of 11-Residue Peptides with Unusual Biophysical Properties: Induced Secondary Structure in the Absence of Water. Biophysical J. 94:1807-1817. PMID: 18024497
Johnston, JM., Cook, GA., Tomich, JM., and Sansom, MS. (2006) Conformation And Environment Of Channel Forming Peptides: A Simulation Study. Biophys J. 90:1855-1864.