Brandon Garcia, Ph.D., Research Assistant Professor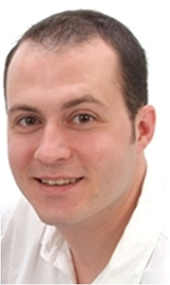 Contact information
Office: 213 Burt Hall
Phone: 785-532-6123
Fax: 785-532-7278
E-mail: garciab@ksu.edu

Education
B.S. 2008, University of Missouri – Kansas City
Ph.D. 2012, University of Missouri – Kansas City
Areas of Specialty
Host-pathogen interaction
Structure and function of microbial immune evasion proteins
Protein-protein interaction
Drug discovery
My scientific interests are centered on improving our basic understanding of how disease-causing microorganisms subvert and manipulate the host response. My research is currently focused on interactions of the human innate immune system with the causative agent of Lyme disease, Borrelia burgdorferi. In order to protect themselves from recognition and elimination by host immunity, microbial pathogens like B. burgdorferi produce extracellular proteins which harbor specific immune evasion properties. I pair structural biology with biophysical and biochemical approaches in order to probe key interactions between these bacterial immunomodulators and their cognate host immune targets. A detailed understanding of the molecular mechanisms of microbial immune evasion will provide new insight on how to combat a wide range of infectious human diseases. Importantly, the potent and evolutionarily-optimized activities of these proteins also hold significant promise as templates for the development of novel diagnostics and pharmacological interventions for autoimmune diseases. My research seeks to reveal how specific structural elements give rise to the novel anti-immune properties found in these bacterial proteins. My long-term interests include, i) extending this research to the broad study of immune evasion mechanisms employed by vector-borne pathogens and ii) translating basic research of novel host-pathogen interactions into the development of new therapeutics for controlling infectious and inflammatory diseases.
Selected Publications
Garcia BL, Skaff A.D., Chatterjee A., Walker J., Wyckoff G.J., Geisbrecht B.V. Identification of C3b-binding small molecule complement inhibitors using cheminformatics J. Immunol. 2017. May 1; 198(9): 3705-3718.
Garcia BL, Zwarthoff SA, Rooijakkers SH, Geisbrecht BV. Novel Evasion Mechanisms of the Classical Complement Pathway. J Immunol. 2016 Sep 15;197(6):2051-60.
Liang X., Garcia BL, Prabhakarana S., Moran O., Meenan N.A.G., Potts J.R., Humphries M.J., Visai L., Höök M. Allosteric Regulation of Fibronectin/α5β1 Interaction by Fibronectin-Binding MSCRAMMs. PLoS One. 2016 Jul 19;11(7):e0159118.
Garcia BL, Zhi H, Wager B, Höök M, Skare JT. Borrelia burgdorferi BBK32 Inhibits the Classical Pathway by Blocking Activation of the C1 Complement Complex. PLoS Pathog. 2016 Jan;12(1):e1005404. PubMed PMID: 26808924; PubMed Central PMCID: PMC4725857.
Takahashi D, Garcia BL, Kanost MR. Initiating protease with modular domains interacts with β-glucan recognition protein to trigger innate immune response in insects. Proc Natl Acad Sci U S A. 2015 Nov 10;112(45):13856-61. PubMed PMID: 26504233; PubMed Central PMCID: PMC4653190.
Summers BJ, Garcia BL, Woehl JL, Ramyar KX, Yao X, et al. Identification of peptidic inhibitors of the alternative complement pathway based on Staphylococcus aureus SCIN proteins. Mol Immunol. 2015 Oct;67(2 Pt B):193-205. PubMed PMID: 26052070; NIHMSID: NIHMS693726; PubMed Central PMCID: PMC4565748.
Garcia BL, Summers BJ, Ramyar KX, Tzekou A, Lin Z, et al. A structurally dynamic N-terminal helix is a key functional determinant in staphylococcal complement inhibitor (SCIN) proteins. J Biol Chem. 2013 Jan 25;288(4):2870-81. PubMed PMID: 23233676; PubMed Central PMCID: PMC3554951.
Garcia BL, Summers BJ, Lin Z, Ramyar KX, Ricklin D, et al. Diversity in the C3b [corrected] contact residues and tertiary structures of the staphylococcal complement inhibitor (SCIN) protein family. J Biol Chem. 2012 Jan 2;287(1):628-40. PubMed PMID: 22086928; PubMed Central PMCID: PMC3249117.
Garcia BL, Ramyar KX, Tzekou A, Ricklin D, McWhorter WJ, et al. Molecular basis for complement recognition and inhibition determined by crystallographic studies of the staphylococcal complement inhibitor (SCIN) bound to C3c and C3b. J Mol Biol. 2010 Sep 10;402(1):17-29. PubMed PMID: 20654625; NIHMSID: NIHMS225018; PubMed Central PMCID: PMC2930029.