Current Issue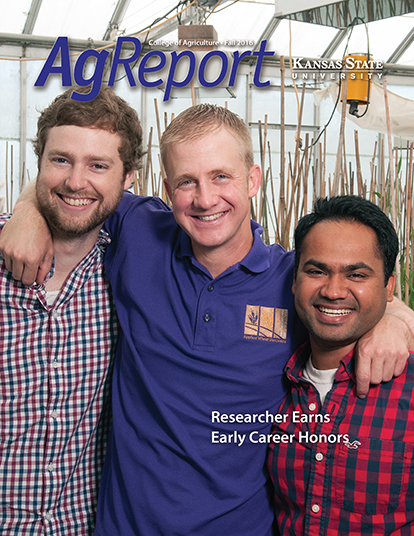 Welcome to the K-State AgReport website. We are pleased to offer you an additional resource to stay connected with the College of Agriculture and K-State Research and Extension.
Access individual articles from the fall 2016 magazine by clicking on topics in the left column. Use the "submit your notes" tab under Alumni to send us your class notes.
Download a PDF or flip book* of the complete fall 2016 AgReport, featuring Plant Pathologist Jesse Poland and two doctoral students – Trevor Rife and Narinder Singh – who nominated him for the Early Career Scientist Award from the National Association of Plant Breeders.
We appreciate your comments about how to keep our alumni, parents, stakeholders, and friends informed about the college and K-State Research and Extension.
If you prefer to read the magazine online instead of receiving a print copy, please send an email to gloria@ksu.edu.
Thank you.
*Flip book may not open on iPhone or iPad.