Admissions representatives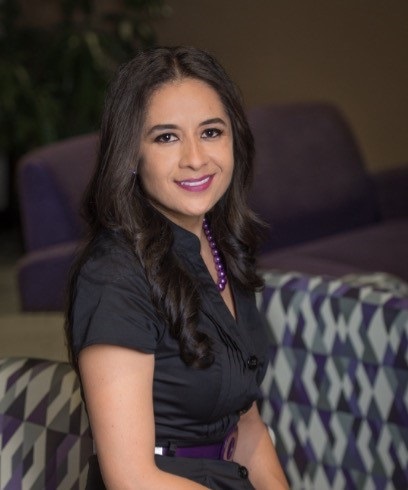 Madaí Rivera
Email: madai@k-state.edu
Phone: 785-532-6237
Assistant Director for Student Engagement
Trabajo con estudiantes y familias Latinas en Kansas y otros estados. Con gusto le atenderé en español. Favor de llamarme al 785-532-6237.
Fast facts
My degree: I graduated from K-State with a degree in elementary education, a dance minor, and an English as a Second Language endorsement. I earned a master's degree from K-State in curriculum and instruction.
My hometown: Dodge City, Kansas. I was born in Juárez, México.
College activities: Sorority member, Hispanic American Leadership Organization, LatiRitmo Dance group, KanDance, Indian Student Association, Mexican Student Association, Society for Appreciation of Bharatiya Heritage and Arts, parachute club, Bilingual Education Student Organization, and Kansas National Education Association.
My K-State experience
K-State was the only school that came to my high school to offer a bilingual information session for students and their parents. My mom and I attended and were very pleased with the information; we could tell K-State really cared.
Learn more about Madaí
Perfect choice
The moment I knew K-State was right for me was when I was awarded the K-State Bilingual Education Students Interacting to Obtain Success scholarship.
Create possibility
My best piece of advice for students is to apply for lots of scholarships.
Looking back
I have so many favorite college memories. A particular favorite is the first time I performed in McCain Auditorium for a SpringDance concert.
Real relaxation
While at K-State, everyone should visit the Rec Complex. It's a great place to release stress while working out. I love it!
Gaining experience
In college, I was a student worker in the Collaborative Intercultural and Multilingual Advocacy Center. They were very flexible with my class schedule.
Work hard, play hard
The secret to maintaining a good freshman GPA is a healthy balance between grades and social life. You need both to survive.
Chance to shine
The coolest classes I took at K-State were Dance Composition I and II because I had a chance to choreograph my own pieces and showcase them.
Making it click
As soon as I began working in classrooms at local elementary schools, I knew I'd found the right major.
Forging a new path
LatiRitmo Dance group was my favorite organization at K-State. I was with it since the group's conception and was president for three years. We always had lots of students from different backgrounds join to learn Latin dance. Our rehearsals and performances were so much fun!
Home sweet home
My favorite college hangout was my house. I always had friends over when I cooked yummy Mexican food.
Flying high
When my kids ask about my craziest college experience, I'll tell them about the time I skydived for the first time with the parachute club.
Spare time
I like to jog, skydive, ride motorcycles, travel and watch boxing matches (I attend some in Las Vegas).
Star power
I really admire Oscar De La Hoya. Regardless of being the world's highest-paid boxer, he continues to be humble and uses his fortune to help those in need.
What I crave
My guilty pleasures are pistachio ice cream and Mexican snacks!
Fear factor
The most surprising thing about me is that I panic if I see a spider.