Admissions representatives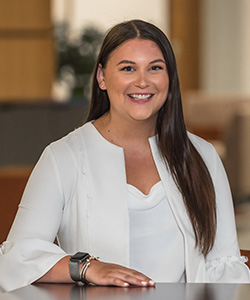 Mac Benavides
Email: kstate8@k-state.edu
Phone: 1-800-432-8270
My territory
Texas
Call today to schedule your campus visit and get a glimpse of the K-State experience. We hope to welcome you soon as the newest member of our Wildcat family!

Fast facts
My major: Bachelor of Science in Secondary Education and Bachelor of Arts in Modern Languages
My hometown and high school: Allen, TX and Allen High School
My college activities: Phi Gamma Delta fraternity, League of United Latin American Citizens, Texas Ambassadors, Multicultural Ambassadors, Multicultural Student Honor Society, College of Education Symposium, Bilingual Education Student Association and Kansas World Language Association
My story
I love being outdoors. On a nice day, I love to hike, go four-wheeling and visit the lake. When I need a break from the great outdoors, I could spend an entire weekend reading or painting.
Learn more about Mac
"K-State gives you an amazing foundation to build on and a supportive community to keep you moving forward. The personal approach that K-State offers really made me feel at home."
Supporting cast
Getting a higher education makes you a more well-rounded, open person. You not only learn about your future career, but also about yourself, and you start to find your place in a community. K-State gives you an amazing foundation to build on, and a supportive community to help you to keep moving forward.
Discovering campus
While at K-State, everyone should visit the Marianna Kistler Beach Museum of Art. It has some great pieces, and is a relaxing way to spend an afternoon with friends.
Surprise ending
When I was in high school, imagining my life 10 years down the road, being a teacher was not even on my radar. But once I got into the classroom and taught my first lesson as part of my experience at K-State, I knew teaching was my calling.
Making edits
The biggest mistake I made in college was not learning early on how to be successful in the classroom. After a couple of semesters of mediocre grades, I began to develop the study habits I had been lacking. If organization and study skills are not your biggest strengths, look into programs at K-State that can help you to stay on top of your classes.
Diving in
One semester, I had a hefty course load of challenging classes, so I took scuba diving to relieve some stress. It was amazing. I have never really enjoyed beaches or lakes because I have always had a secret distrust of underwater critters, but seeing them while diving was such a different experience.
Favorite organization
I absolutely loved being a Texas Ambassador at K-State. I got to take an active role in developing the Texan community on campus.
Presidential party trick
I can do a spot-on impression of George Bush, as long as no one is paying attention.
Words to live by
Never let the fear of failure get in the way of trying something new. My grandmother always reminds me that you never know until you try.
Writing a dream weekend
On a dream weekend, I would go to the driving range with friends, hike the Konza Prairie and then relax while hanging out at Tuttle Creek, maybe even camping out for a night. Of course, there would have to be a deck of cards involved.