Admissions representatives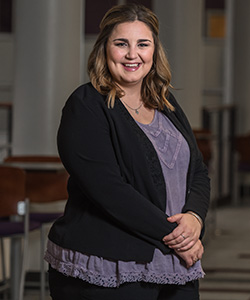 Katy Zapletal
Email: kstate7@k-state.edu
Phone: 1-800-432-8270
My territory
Northeast Kansas, Iowa, Michigan, Nebraska, North Dakota and South Dakota
Call today to schedule your campus visit and get a glimpse of the
K-State experience. We hope to welcome you soon as the newest member of our Wildcat family!

Fast facts
My degree: I graduated with a degree in kinesiology and a minor in leadership studies.
My hometown: Manhattan, KS
College activities: Alpha Delta Pi sorority, Student Alumni Board, Student Foundation, orientation leader, Wildcat Warm-up counselor, New Student Services tour guide and Blue Key Senior Honorary.
My story
Whether it's in a theater or on my couch at home, I like to think of myself as a movie connoisseur, especially when it comes to Disney or Harry Potter movies. I also love traveling with my family and friends.
Learn more about Katy
"There are tons of ways to get involved in anything you're interested in, including giving back to the community. A college campus that has the ability and resources to make service a priority was the best choice for me. K-State isn't just a place to get a degree, but a place to call home."
Scene of service
On my first campus tour, I was blown away by the students, faculty and staff and immediately knew I wanted to be a part of such a great community. At K-State, there is a big focus on giving back to your community. A college campus that has the ability and resources to make service a priority was the best choice for me.
Find the perfect path
At K-State, you are not just a number in a sea of students. Professors and staff at K-State do their best to help you excel. Experts are available to any student who needs guidance in academics or campus life, including the Academic and Career Information Center, counseling services or great programs for first-year students to get you on the right track, right away.
Inside and out
During the first week of classes, many of my professors told me I would learn in the classroom, but that it was important to apply what I learned outside the classroom, as well. K-State professors make education immediately applicable to the real world. With more than 3,800 courses, you're sure to find something that not only fits your career goals, but can help you grow as an individual before you even have a degree.
Shining stars
My favorite professor in college was Gayle Spencer, who taught my final leadership studies course, LEAD 450. I loved Dr. Spencer because she expected a lot of her students, but also was always willing to help. Even if you aren't fortunate enough to have a class with Dr. Spencer, chances are you'll find a favorite professor of your own, because K-State is full of great teachers. In fact, K-State has more CASE/Carnegie Professor of the Year winners than any public research university in the country.
A guide to lay the groundwork
I recommend finding a mentor. A great way to do this is through K-State's Guide to Personal Success program, or GPS, which matches first-year students to K-State faculty, staff or graduate students. Your mentor can guide you to programs and activities that fit your interests.
Never a dull moment
K-State's Union Program Council has some awesome, free activities that take place throughout the year. Some of my favorites were the $1 movie nights during the weekends, and grocery bingo. All you have to do is show up, play some bingo, and if you're lucky, you'll go home with a big bag of groceries.
Day trip
The Konza Prairie is a great little taste of Kansas and a place where I love to take guests. Since I'm from the area, I spent a lot time there as I was growing up, and continued to visit this great spot throughout college. Not only does the Konza Prairie offer some breathtaking views of the Flint Hills, but you can learn a lot about all of the cool K-State research that takes place there.
Roommate advice
Communication is key. It's important to set up ground rules right away, and establish routines, like a cleaning schedule. This way you can hold each other accountable. If you run into a difficult situation, it's important to speak to your roommate face to face.