Admissions representatives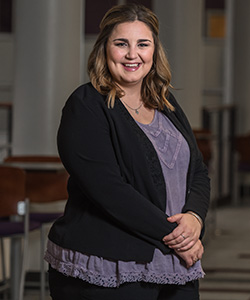 Caroline Schuckman
Email: kstate7@k-state.edu
Phone: 785-532-1521
My territory
Northeast Kansas, California, Kentucky, Indiana, Ohio, Tennessee and Wisconsin
Call today to schedule your campus visit and get a glimpse of the K-State experience. We hope to welcome you soon as the newest member of our Wildcat family!
Fast facts
Major: Human Development and Family Science
Minor: Pre-Nursing
Hometown: Wichita, Kansas
College activities: Gamma Phi Beta sorority, Snyder Leadership Legacy Fellows program, K-State Proud, Greek Scholarship Advancement Committee and intramural sports
My K-State experience
I made lifelong friendships and memories, felt surrounded by the family atmosphere, and made Manhattan my home away from home. K-State is truly a place like no other.
Learn more about Caroline
Why I chose K-State
My mom went to K-State, and after hearing all her memories and stories from her time in Manhattan, I knew it was a great choice for me.
My defining moment
I developed genuine relationships with my professors. I had some personal difficulties arise, and throughout it all, faculty members took time to reach out and check on me. These individuals were so intentional on making sure I had the resources I needed to continue to be successful in my time at K-State.
The K-State difference
Students from very small towns may think Manhattan is the biggest city they've ever visited, let alone lived. At the same time, another student may view the community as a tiny place to call home. K-State gives you the foundation become a leader in your community, large or small, by surrounding you with students from diverse backgrounds.
Where I take out-of-town guests
I love showing guests Bill Snyder Family Football Stadium. When you see it in person, you can really appreciate its magnitude! It is so large and beautifully built, with plenty of memories of Wildcats cheering on their team!
Favorite on-campus stop
If you're visiting campus, you must see Hale Library. It is such a university staple! There is just something about witnessing fellow classmates collaborate on group projects, or simply studying for an exam, that helps you remember why you're there in the first place.
What I never imagined
I never thought I would serve as an ambassador for Coach Bill Snyder and his 16 Goals for Success. The Snyder Leadership Legacy Fellows program provided me a great avenue to leave my mark on K-State, meet individuals from different organizations and diverse backgrounds, and improve my overall leadership skills.
The value of higher education
Having the opportunity to continue your education is not something to be taken lightly, as it leads to discovering the best version of yourself. Not only are you stronger as you enter the workforce, but also in your personal growth. At K-State, you will encounter individuals who invest their time and talent in you. Whether a professor, mentor or friend, these folks want you to succeed.
How I chose my major
I took Introduction to Human Development, and immediately felt drawn to it. The College of Human Ecology's motto is, "In a world focused on things, we focus first on people." I value building relationships with individuals and their families. It's helped me become a better friend, sister and daughter.
Getting involved
Utilize your resources! Whether it's a simple online search for a club or organization, asking a friend, or connecting on social media, you have every avenue available to find information. Also, I recommend going to the Activities Fair during the first week of classes. Can you believe there are more than 475 clubs?
Item you can't forget
I am a huge advocate for weather-related items, such as an umbrella or snow boots! Kansas weather tends to be unpredictable.
My favorite (free) activities
Meeting up with your friends at the Rec Center for a game of volleyball or a Zumba class always results in some good laughs and a healthy sweat. If the arts interest you, then check out the Beach Museum of Art, which offers free admission!
My obsessions
My five-pound dog, Simba! I'm not biased or anything, but he is the cutest Chihuahua/Yorkie mix pup ever. From his name, you can probably guess that I'm a huge "Lion King" fan, as well! Also, I love organizing anything and everything.
My hidden talent
I can only play one song on the piano by heart: "This Land is Your Land" by Woody Guthrie. From seven years old to this day, I can still play it by heart.
My favorite local meal
I could eat Bourbon & Baker's chicken and waffles all day! I've never had it anywhere else, and I have no desire to. It is that good, people!