Admissions representatives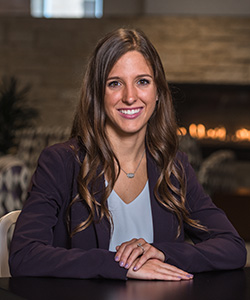 Leah Clawson
Email: kstate5@k-state.edu
Phone: 1-800-432-8270
My territory
Southeast Kansas, Missouri, Alabama, Arkansas, Louisiana, Mississippi and Oklahoma
Call today to schedule your campus visit and get a glimpse of the K-State experience. We hope to welcome you soon as the newest member of our Wildcat family!

Fast facts
Major: Agricultural economics with a specialty in marketing, and a leadership studies minor
Hometown: Fredonia, KS
College activities: National Agri-Marketing Association (NAMA), College of Agriculture Ambassadors and Housing and Dining Ambassadors
My K-State experience
Agriculture has always played a major role in my life; in fact my first word was "moo." Growing up, I knew I wanted to pursue a major in agriculture to gain valuable knowledge I could give back to the industry. As a high school junior, I visited campus and realized that K-State was not only focused on providing an excellent education, but also was the friendliest campus I visited. I knew I would grow as a student, a leader, a teammate and an individual.
Learn more about Leah
How I chose K-State

During my Junior Day campus visit, I met with college students to gain their first-hand perspective of K-State. The students I met with were genuinely kind, and I could tell they truly wanted to help me discover my perfect fit. That was the defining moment when I realized this was where I wanted to be. It also was the moment I recognized my passion for helping others find their place within the Wildcat family.
Favorite spot
Shellenberger Hall is a must-visit place on campus. During the school year, the Bakery Science Club hosts a bake sale every Wednesday. If you have a sweet tooth, want to eat amazing cookies or love freshly baked bread, the Bakery Science Club's bake sale needs to be on your campus bucket list.
How I stepped out of my comfort zone
Prior to K-State, I never imagined I would travel to three different countries during my four years in college. K-State's connections with other universities around the world, along with the numerous scholarships designed specifically for studying abroad, enabled me to travel to three countries – China, Ireland and England.
The value of a K-State degree
A higher education allows you to explore your interests on a deeper level while challenging you to achieve success. K-State enabled me to combine my interests and pursue a degree that has equipped me with knowledge and skills I will be able to use in my current and future endeavors.
Favorite K-State course
One of the most unique classes I took was COMM 323 Nonverbal Communication. It focused on the importance of understanding unspoken body language. The assignments were very out-of-the-box, and taught me to read between the lines of everyday communications and become a stronger communicator.
Establishing relationships with professors
I highly suggest introducing yourself to all your professors the first week of class, allowing them to get to know you as an individual. Not everyone does this, so you will stand out in a great way. To maintain the relationship, visit professors during their office hours. K-State professors are known for their commitment to student success, and are always willing to answer your questions or to simply talk about life.
Must-do activity
Consider renting a kayak and have an adventure at Tuttle Creek Lake. This is such a fun way to create long-lasting memories with friends.
Roommate advice
Communication is key – there is not a class on mind reading, so communicate with your roommate. Everyone is different, with different backgrounds, values and preferences. There are multiple ways to accomplish any one task.
Fun facts
I have two birthdays, so I celebrate by eating cake both days. I love to bake, and I love to eat what I bake (especially desserts)! Also, I can name Disney songs within the first few seconds of listening. My favorite TV show is "Friends." Give me some popcorn and peanut M&M's and I'll be set for a "Friends" marathon.
Favorite study spot
My favorite place to study was the top floor of the Leadership Studies Building. The windows and plants made me to feel like I was studying outdoors while enjoying the comfort indoor studying. This also was the perfect place to study because Radina's Coffeehouse is on the first floor, which is a great place to grab a snack.