Admissions representatives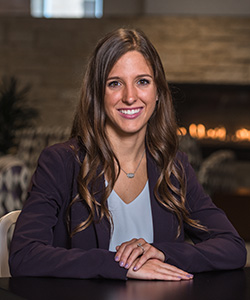 Kaylee Sundeen
Email: kstate5@k-state.edu
Phone: 785-532-1521
My territory
Southeast Kansas, Alabama, Louisiana, and Mississippi
Call today to schedule your campus visit and get a glimpse of the K-State experience. We hope to welcome you soon as the newest member of our Wildcat family!
Fast facts
Major: Journalism and mass communications with an emphasis in public relations
Minor: Leadership studies
Hometown: Cottonwood Falls, Kansas
College activities: Mortar Board Senior Honorary Society, New Student Services Ambassador, College of Arts and Sciences Ambassador, Royal Purple Yearbook, Chimes Junior Honorary, Silvery Key Sophomore Honorary, Public Relations Student Society of America and Hall Governing Board
My K-State experience
As a fourth-generation K-Stater, I grew up bleeding purple! My family took me to countless football and basketball games, and my grandma took me to Open House. K-State was a magical place, and I couldn't wait until I was old enough to be a student. I've always known K-State was the right place for me, but that feeling was confirmed when I visited campus and met with so many people who went out of their way to make sure I had the best K-State experience.
Learn more about Kaylee
Meaningful connections
K-State puts a personal touch on everything it does. Campus visits are customized to fit your wants and needs, and every visitor receives individual attention. K-State faculty and staff do an amazing job connecting with students and being accessible, allowing you to form close relationships with your professors. Students are never just another face in the crowd.
Painting the town
When I have friends or family in town, I love taking them to K-State football or basketball games for the amazing atmosphere, and to Call Hall Dairy Bar because you can never have too much ice cream.
Wildest dreams
My freshman year, I caught a huge fish in one of my classes. You can have experiences at K-State that you never thought possible!
Cat chats
I worked for the Royal Purple Yearbook and had the opportunity to interview so many amazing K-Staters. My favorite interview was with former President Kirk Schulz. He had a lot of insight, and we had a great conversation.
Aiming high
A higher education from K-State gives students access to the tools they'll need after graduation. For example, the Career Center offers resume and cover letter critiques, mock interviews, and workshops.
Leading the charge
I thought it was so neat that K-State offered classes in leadership. I took my first leadership studies class after hearing great things from other students, and I loved it so much it became my minor!
Join in
Research the many clubs and activities offered at K-State to find your perfect match. The Activities Fair takes place the first week of classes each semester, and it's a great way to explore K-State's 475-plus clubs and organizations!
Don't forget
Make sure you bring snow boots to campus! Winters in Kansas can be unpredictable, and you never know when you'll have to wade through a snow drift.
Make connections
Meet with your professors during their office hours to ask questions about your homework, or even just find out more about a major or future career. You will most likely have many of the same professors throughout your major-specific courses, so it pays to make those connections early and often.
A must do
Make a bucket list of all the activities in Manhattan and at K-State that you want to accomplish! My suggestions are sitting in the front row at a football game, hiking the Konza Prairie and scoring a grilled cheese mac and cheese from the Varsity Donuts food truck in Aggieville.
My favorites
I love hanging out with my dog, Molly, as well as running and watching K-State sports. My favorite place to grab a local snack is Arrow Coffee Co., located both right across from campus and in Trotter Hall. The coffee and atmosphere are both amazing! I would also recommend anything from So Long Saloon, especially the raspberry black bean dip.
The K-State edge
K-State has given me the skills I need to be successful in the workforce. This happens not only in the classroom, but in the countless opportunities K-State placed in front of me. From campus involvement to career preparation, I graduated with confidence that I had the tools I needed for my future.