Admissions representatives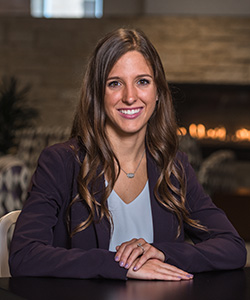 Taylor McClellan
Email: kstate5@k-state.edu
Phone: 1-800-432-8270
My territory
Southeast Kansas, Missouri, Alabama, Arkansas, Louisiana, Mississippi and Oklahoma
Call today to schedule your campus visit and get a glimpse of the K-State experience. We hope to welcome you soon as the newest member of our Wildcat family!

Fast facts
My degree: I graduated with a Bachelor of Arts in English literature and psychology.
My hometown: Palco, KS
College activities: Kappa Alpha Theta sorority, 'Cat Crew, Strengths Advocates, K-State Up 'til Dawn and CASA volunteer
My story
K-State helped me come out of my shell in many ways. Through great opportunities like the Activities Fair and my sorority, I was able to find lifelong friends, make great memories and lay a solid foundation for my future. I can't wait for you to find your perfect fit at K-State, as well!
Learn more about Taylor
"I believe that K-State has the friendliest students in the nation. Walking around campus, you will see students smiling and interacting with one another."
Fairy tale friendliness
I believe that K-State has the friendliest students in the nation. Walking around campus, you will see students smiling and engaging with one another. I was lost on my first day as a student, and another student went out of his way to help me figure out where I was going without me even having to ask. Students are devoted to each other's well-being.
Surprise guest
The Call Hall Dairy Bar is such a fun place to show out-of-town guests! I love that the ice cream is made right on campus. The dairy bar is a great spot to sit outside and enjoy a cone. My favorite flavors are the Wildcat 150 and Purple Pride.
Developing the plot
Studying abroad really expanded my horizons. Because I am from such a rural area, I was relatively unexposed to different cultures. Studying Abroad was one of my greatest collegiate experiences, and you definitely learn so much about yourself while traveling.
Literature lover
I took an English class called Harry Potter in Context, and loved discussing the culture and literature of all things Harry Potter. My classmates were so much fun to have discussions with because we were all so interested in the subject. I expanded my literary horizons and investigated other literature that influenced the author's writing.
Road to research
My senior year, I took an extensive English course that required a great deal of research. The paper was very self-paced and it really taught me the importance of pacing myself with different projects. I also had the opportunity to use my critical thinking skills to combine multiple disciplines for one large paper.
Strong characters
In order to have a good relationship with your professor, don't be afraid to sit up front during class and vocalize questions. I took an English course my junior year from a professor who really encouraged me to think outside of the box when considering literature. In previous years, I felt uncomfortable visiting with my professors outside of class time. This professor taught me that talking with them can lead to great ideas and a better understanding of different subjects.
Rough draft
I would tell my freshman-year self that it's okay to have a plan fall through. It's okay to not know exactly where you will be in five years. It's okay to meet new people and branch out. K-State is an amazing journey, and you should be focused on the steps you take, not necessarily where the path is heading, at least not right away.
Gain momentum
Intramurals are a great way to meet new people and stay active! Although I'm a self-proclaimed klutz, nothing was more fun or relaxing than a Sunday afternoon game of softball with my friends.
Authentic start
My best advice for living with roommates is to always be honest with each other. For example, I talk in my sleep. When I lived in the residence halls, I made sure to let my roommate know so she wouldn't end up surprised in the middle of the night. Also, be considerate of one another. If you're honest and considerate, very few problems should arise.
Hidden talent
I have a plethora of Harry Potter trivia knowledge.
Favorite scene
I could eat Mr. K's cookie bake for the rest of my life. The melted cookie and cool ice cream combo is addicting.