Admissions representatives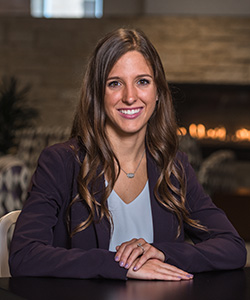 Blair Kocher
Friend me on Facebook

Email: kstate5@k-state.edu
Phone: 1-800-432-8270
My territory
Morris, Lyon, Osage, Franklin, Miami, Chase, Coffey, Anderson, Linn, Greenwood, Woodson, Allen, Bourbon, Elk, Wilson, Neosho, Crawford, Chautauqua, Montgomery, Labette, and Cherokee counties, KS; Illinois, Indiana, Kentucky, Ohio, Tennessee and Wisconsin.
Call today to schedule your campus visit and get a glimpse of the K-State experience. We hope to welcome you soon as the newest member of our Wildcat family!

Fast facts
My degree: Business management
My hometown: Lenexa, KS
College activities: K-State Singers, On the Spot Improv, Johnson County Ambassadors
My story
I play the piano and love to sing. I took an introductory level mixed martial arts class when I was a sophomore at K-State, and I can touch my right pointer finger to the back of my hand.
Learn more about Blair
Perfect preview
I chose K-State because from the beginning, I felt like a person rather than a number. Faculty and staff sealed the deal for me with all the personal attention they gave me. From the moment I first stepped foot on the K-State campus I was welcomed with open arms by the K-State family. It was unlike any other college campus I considered. I really feel like everyone at K-State wanted me to succeed — from faculty to staff to students.
Making memories
As a K-State Singer I got several opportunities to perform for audiences. I also opened for actor and comedian Joel McHale doing stand-up comedy for an audience of more than 1,100 people. These are definitely some of my favorite memories from college.
Words of wisdom
Freshmen have so many new opportunities when they first arrive at K-State. The secret to getting a good freshman GPA is to not overload your schedule so you do not overwhelm yourself. Plan study hours into your daily routine. If you can make yourself stick to that schedule, you'll have no problem getting a good freshman GPA.
Narrate your own success
Talk to your professors, whether it be in person, through email or during their office hours. It's important to establish a healthy relationship with them before you have a problem in their class. Professors at K-State are always willing to make time for you and help you.
Preparation makes perfect
Do a little at a time. If you can plan ahead and work on little chunks of the project or have study time planned out you will be surprised how well you can do on big tests or projects.
Keeping the peace
Living with a roommate can be a great experience as long as you both keep an open mind and an open line of communication. Be honest with each other. You can't expect your roommate to know when he or she is doing something you don't like. A roommate agreement could also benefit both of you. By laying out what is acceptable and not acceptable at the beginning of the year, it will help make disputes easier if you have something written down.