Admissions representatives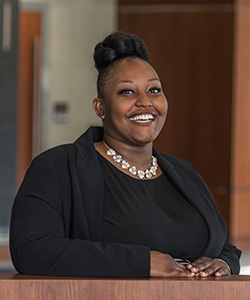 Jessica Jasso
Email: kstate4@k-state.edu
Phone: 1-800-432-8270
My territory
Sedgwick, Shawnee, Wyandotte counties, KS; Kansas City, MO and Connecticut, Maine, Maryland, Massachusetts, New Hampshire, New Jersey, New York, Rhode Island, Pennsylvania, Vermont
Call today to schedule your campus visit and get a glimpse of the K-State experience. We hope to welcome you soon as the newest member of our Wildcat family!

Fast facts
My degree: I have a bachelor's degree in secondary education speech and theatre.
My hometown: Olathe, KS
My college activities: League of United Latin American Citizens, Bilingual Education Student Organization, Council for Exceptional Children, Girl Scouts Beyond Bars, Zeta Phi Beta Sorority Inc.
My story
The first time I visited K-State, I got lost. I asked a passing student where the Student Union was and she offered to walk me there. It was cold outside, and she was wearing her backpack, so I assume she was on her way to class or home for the day – and she still walked with me. I felt the K-State family feel that everyone always talks about.
Learn more about Jessica
"

While individual success is important to all K-Staters, we want to climb to the top together. We lend a hand whenever and wherever possible.

"
Team effort
K-State stands out from other schools because while individual success is important to all of us, K-Staters want to climb to the top together. We lend a hand whenever and wherever possible.
Fresh air
I love taking out-of-town guests to Tuttle Creek Lake. It's beautiful, and a great place for a barbecue and fun in the sun. Also, Manhattan's Top of the World scenic overlook is a great spot.
Life lessons
Higher education not only makes you more marketable when looking for jobs, but also prepares you for life. You learn life lessons in college. Attending K-State for your higher education pursuits means you chose wisely.
Night out
I loved Latino Night at Cat Tracks, a local hangout. Dancing to Latino music with my friends is my favorite pastime. It was a lot of fun and gave me a chance to get dolled up — plus, it was a great workout!
History comes alive
I was surprised how much I enjoyed my History 252 course, History of the U.S. Since 1877. I received an "A" in a history class for the first time in my life. The professor made his lectures come alive, and I genuinely enjoyed going to class. He was passionate about the subject, and it was evident.
No more comfort zone
The coolest class I took at K-State was Fundamentals of Acting, made up of mostly non-theater majors. It was interesting to see engineering majors step out of their comfort zones and immerse themselves in something so different and experimental. Acting is a beautiful art, and working so closely with a stranger was exciting.
Running start
When I got to campus, I went to the activities fair and signed up for anything I found even the least bit appealing. From there, I was on the listserv and was able know about upcoming events. I met many cool people through my involvement in different activities.
Giving back
Make community service part of your college experience. It will make Manhattan seem more like home and create a sense of belonging. I participated in endless projects, but my favorite was sleeping outside with the homeless. It is an event that my fraternity friends put on each year to spread awareness, as well as collect canned goods for those in need.
Little do you know
People may not guess that I am trilingual. Also, I enjoy scrapbooking, karaoke — maybe a little too much — and geocaching.
Pizza heaven
If there was one meal around Manhattan I could eat forever, it would definitely be cream cheese pizza from Pizza Shuttle.