Admissions representatives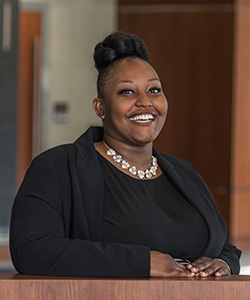 Maya Tilmon
Email: kstate4@k-state.edu
Phone: 785-532-1521
My territory
Shawnee and Wyandotte counties, KS; Greater Kansas City, MO; Connecticut, Delaware, Maine, Maryland, Massachusetts, New Hampshire, New Jersey, New York, Rhode Island, Pennsylvania and Vermont
Call today to schedule your campus visit and get a glimpse of the K-State experience. We hope to welcome you soon as the newest member of our Wildcat family!
Fast facts
Major: Journalism and mass communications with an emphasis in public relations
Minor: Women's studies
Hometown: Kansas City, Kansas
College activities: Black Student Union, Multicultural Student Honor Society, Multicultural Ambassadors and Diverse Mass Communicators
My K-State experience
I attended K-State because I loved the atmosphere, size and location. I had always been a K-State fan and had visited the campus several times, so I knew the atmosphere was very friendly and welcoming. The campus is large, but the main area where the Union, Hale Library and main academic buildings are all in one central area. K-State is only two hours away from home, so I was "going off" to school but I was close enough to go home and visit family or for family to visit me.
Learn more about Maya
How we stand out
K-State offers so many great resources and has an abundance of people on campus who are willing to help students. The university may have nearly 25,000 students, but I never felt like a number. If I needed help or advice, I knew someone's office would always be open.
Favorite student organization
My favorite student organization is the award-winning Black Student Union. The mission of the BSU is to develop and advance academic stability, political action and the leadership of black students, while promoting black culture across all aspects of life. BSU was a home-away-from-home for me and the support of the community really helped me thrive on campus.
Adjusting to college
To make sure you have a great freshman GPA, buy a planner or download an organizer app on your phone. Knowing deadlines is crucial. Manage your time well and remember to breathe — there may be times you feel overwhelmed, so concentrate on being calm and prioritizing.
Favorite place to visit
While in Manhattan, every student should take time to grab a friend, get a treat from Varsity Donuts and ride one of their tandem bikes afterward. I always looked forward to riding the tandem bike and trying one of the 30 different kinds of delicious donuts.
Favorite free activities
Take advantage of anything sponsored by the Union Program Council. They coordinate laser tag, paintball, movie nights in Bosco Plaza, free T-shirts, free food or ice cream, K-State Idol, K-State Dancing with the Stars, and other fun events throughout the semester! They also plan fun, low-cost activities like $1 movies every weekend in Union.
Roommate advice
Your roommate might be someone who has a similar lifestyle and habits as you, or they could be the opposite. The key is to be patient with them and try to understand them before you make any judgments or cause any problems. If there is an issue with your roommate, patience is important because they might be feeling the same amount of frustration as you.
Fun facts
I love cats. In fact, if I were given the opportunity to become Catwoman, I would definitely take it. I also like to play loud music and dance around in my apartment when I'm alone. Depending on the song, I might turn into a superstar singer or a choreographer.
How K-State changed me
K-State provided me with mentors who have looked out for me throughout the years and have helped mold me into the successful person I am today. K-State also has provided me with numerous leadership opportunities that allowed me to develop and improve my professionalism and leadership skills.
Favorite local treat
I could probably eat the coconut popcorn shrimp from the Little Grill forever. It's a small Jamaican restaurant hidden in Manhattan. The food is delicious!