Admissions representatives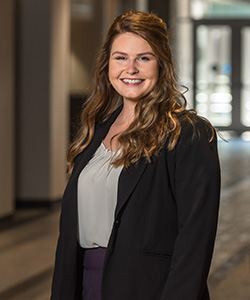 Jenny Cooper
Email: kstate3@k-state.edu
Phone: 785-532-1524
My territory
South Central Kansas, Nebraska, Iowa, Michigan, North Dakota, and South Dakota
Call today to schedule your campus visit and get a glimpse of the K-State experience. We hope to welcome you soon as the newest member of our Wildcat family!
Fast facts
Major: Journalism and mass communications with a focus in advertising
Minor: Leadership studies
Hometown: Wichita, Kansas
College activities: National Society of Collegiate Scholars, CRU (Campus Crusade for Christ), Leadership Studies class leader, Boys and Girls Club of Manhattan and Baking Club
My K-State experience
In my wildest dreams, I never imagined I would become this attached to a university. But that's just it; it's not just a university. The atmosphere at K-State is one of genuine love and excitement for everything that's going on and a true feeling of community. Purple has not only become a symbol of the place I attended school, but also a symbol of the kind of character I want to reflect. The sense of pride that comes from wearing purple is fostered throughout your entire college career.
Learn more about Jenny
How we stand out
People who work or go to school here don't just love K-State out of obligation. They love the school because of the indescribable feeling of family and the pride of wearing purple. Wearing our school colors or the mascot isn't just a sign of loyalty; it's a reflection of our character.
Favorite college memory
My favorite college memory is a day I spent at Hale Library's Great Room when it started to snow. I left the library and walked home in the snow. It was so quiet and magical, like something out of a book. When I got home my roommate and I had a snowball fight in our parking lot with our neighbors and went to IHop afterward. Everything about that night was magical.
Favorite student organization
Campus Crusade for Christ was an incredible organization. Campus ministry can be a bit of a controversial subject but CRU truly wanted to make students feel welcome and loved. Getting to be a part of the worship band was a great experience for me because I got to exercise leadership as well as do something I love: singing.
Favorite college hangout
I loved being in Radina's in the Leadership Studies Building because I felt a sense of community and had some of the best conversations with friends, classmates and professors. I always felt at home. Especially during the semester I taught Lead 212, it was a great place to mingle and have meaningful conversations.
How I chose my major
I always knew I loved to write. I started out in education then moved to English, but I wanted something more creative and exciting. I stumbled across advertising on K-State's website. There wasn't one specific moment when I realized it was right for me, but it was more of a collection of moments. I knew it was the right fit because, in every advertising class, I learned more about the industry and how I could apply it to my passions of music, film and writing.
Post-college help
Lead 405 Leadership in Practice helped me learn how to have more productive conversations and work through adaptive challenges. There are things in this world that do not have a clear-cut answer and it's not always our job to solve the problem, but to give others the tools to solve their own problems. That class helped me learn how to really listen to people when they are going through difficult things.
What to bring to college
A spare car key! Make sure you keep it somewhere safe or give it to someone you trust. There have been countless times that I've locked my keys in my car and needed my roommate to bring me my spare. It's saved me a lot of headaches.
Top activity picks
The Beach Museum of Art always has exciting events. Last year they had a traveling Shakespeare group visit and show original copies of his works. Rock climbing at the Rec is really fun, and you can take a rope-handling course for free.
What I love
I enjoy listening to movie scores while I study, and I'm a HUGE Harry Potter nerd. It's actually more like an obsession. I also love baking, singing, reading, living-room yoga and my Harry Potter coloring book. I also am very good at doing different voices and accents. I love making people laugh.
Favorite local treat
I could eat the chipotle raspberry and black bean dip from So Long Saloon for the rest of my life. Everyone is skeptical about it at first but it will change your entire world. I don't think there is a more heavenly food on this planet.