Admissions representatives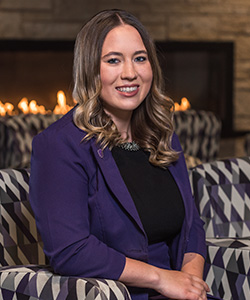 Carlos Rodriguez
Email: kstate2@k-state.edu
Phone: 1-800-432-8270
My territory
Southwest Kansas, Alaska, California, Hawaii, Idaho, Minnesota, Nevada, Oregon and Washington
Call today to schedule your campus visit and get a glimpse of the K-State experience. We hope to welcome you soon as the newest member of our Wildcat family!

Fast facts
Major: Master's degree in college student development
Hometown: San Juan, Puerto Rico
College activities: K-State Track and Field and a graduate teaching assistant in the modern language department
My K-State experience
I came to K-State because I had the opportunity to represent the university as a track and field athlete. I was offered an athletic scholarship from many schools but what sealed the deal with K-State was the family environment on campus. The coaches, my teammates and faculty members made me feel like they actually cared about me and my success as a student, not only as an athlete.
Learn more about Carlos
How I chose K-State
My native language is Spanish, and prior to K-State I did not speak a lot of English. When I spoke with a K-State recruiter at a summer international meet, he told me that even though he didn't speak good Spanish, he was going to try to speak it with me so that I would feel more comfortable during the recruiting process.
Why K-State is special
The family aspect makes our university so unique. Also, the people from this town are very friendly and kind. You will never feel like you are alone. The school first priority is student success and that means a lot to me. Last but not least, our athletic program is one of the best in the country and the pride of our fans definitely is something I will never forget.
Favorite college memory
My favorite K-State memory is wearing my purple K-State uniform at the NCAA Championships in front of 10,000 people. It was an honor for me to represent my school by competing against the best athletes in the country.
How I stepped outside my comfort zone
One thing I did at K-State that I never would have imagined was teach a Spanish class. I became a graduate teaching assistant for the modern language department and it was one of the best experiences I've had in my life. I had great chemistry with my students and I felt that they could relate to me. That experience gave me another perspective of what it means to be an educator.
My memorable meeting
The coolest person I met at K-State was Erik Kynard, a former teammate from the K-State track and field team. Erik won an Olympic silver medal at the London 2012 Olympic Games while he was a junior in college. After his accomplishment he was offered plenty of professional contracts and deals with national brands, but Erik denied all those offers because he wanted to finish his college education. The next year he won the NCAA Championships and graduated with a degree in business administration. Now he is a professional athlete signed and is heading to his second Olympic Games in Rio 2016.
The value of a K-State education
Receiving a higher education helps students to be more competitive during the job-search process. K-State is a prestigious school, adding even more value to the degree and a student's marketability.
Favorite event
The best event I attended was when comedian Kevin Hart visited. It was unbelievable because I never thought I would see someone as famous as him on campus. It was a great experience and I know all the students enjoyed that night. Also, the prices were very reasonable so everyone had the opportunity to enjoy some great laughs.
Best advice
At some points in my college career I focused more on the sport I was playing than my academics. I encourage future student athletes to be passionate about their sports, but never let your academics slip in your priorities. Knowledge and education is forever, college sports are temporary.
Preparing for tests
Study in advance, don't rely on cramming the night before. Also, find classmates who can participate in group study sessions so you can discuss the material with each other.
Fun facts
I was born and raised in San Juan, Puerto Rico, and I learned English at K-State my freshman year in the English Language Program (ELP). I love fitness, so my hobbies including running and lifting weights. Also, I am a movie freak! Every night I have to watch a movie before I go to sleep.
How I changed at K-State
My freshman year I was all over the place. By my senior year, my maturity level had really increased. Now, I know what I want and I have set my priorities.