Admissions representatives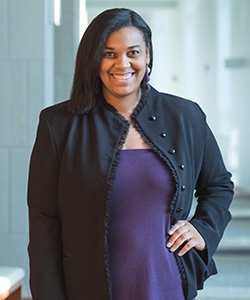 Samantha Thomas
Email: kstate18@k-state.edu
Phone: 785-532-1521
My territory
St. Louis
Call today to schedule your campus visit and get a glimpse of the K-State experience. We hope to welcome you soon as the newest member of our Wildcat family!
Fast facts
Major: Human development and family science
Minor: Leadership studies
Hometown: St. Louis, Missouri
College activities: Special projects coordinator for New Student Services, University Success Center coordinator, K-State Parents and Family Association media coordinator, Orientation and Enrollment parent host, College of Human Ecology senator for the Student Governing Association, All-University Open House Core Committee, K-State Proud, Wildcat Warm-up counselor, Greek life, Haymaker Hall Governing Board, Women's Choir
My K-State experience
My sophomore year, I met one of my professors at his office hours to build a stronger relationship. We talked about my career goals and dreams for an hour and a half! After lots of visiting, he eventually suggested I apply to be his teaching assistant. I was shocked. I couldn't believe that after just one conversation, a professor in my program believed in me that much.
Learn more about Samantha
What sealed the deal
K-State was the place for me because no matter with whom I was speaking, I always felt like the connections I made were genuine. The people I met took time to know me, my family and my story, and I could see how much I could grow here. College is supposed to develop you into the best version of yourself and I knew that I'd found exactly the place for my journey.
The K-State difference
Everyone at K-State makes it their mission to ensure your time as a student is worth every penny you spend. You invest so much time, money and energy into your education, so K-State goes out of its way to give you the most value-packed experience possible. Whether it's helping you plan your class schedule, finding a book in the library, connecting with a tutor or practicing interview questions, it's really the little moments that make K-State unique.
Where I take guests
The best place to think or reflect is Top of the World, a hill just a short drive away from campus. I love taking guests there to walk a path to what seems like the end of the world and end up gazing at everything Manhattan has to offer. At night, the city seems to just glow and it reminds of why I love Manhattan so much.
Extra stop
Everyone visiting campus should check out the Memorabilia Room in the Alumni Center to see some really cool pieces of K-State history. They have an original round waffle iron from Kansas State Agricultural College and it's a great blast from the past.
I never imagined I would …
I had an amazing opportunity to spend two summers in Manhattan welcoming future Wildcats into the K-State family on the summer orientation team. I went through Wildcat Warm-up the summer before my freshman year and it really helped me get a jump-start on my college experience. My counselors for the weekend made such an impact on me that I wanted to do the same thing for others. Two years later, I got to do just that and loved every minute of it.
Favorite student organization
During my last year on campus, I joined the Student Governing Association as a senator to get involved on a deeper level. I knew SGA allocated millions of student dollars toward amazing causes and services all over campus, but I never realized how much the people in SGA truly cared about making a difference in the student experience. Senators work tirelessly throughout the year to meet the needs of what every student expects from their time at K-State.
How I picked my major
I started out in political science and pre-law but realized after my first year that I wasn't in the right spot. I felt stuck, so I visited the Career Center and worked with its team to figure out what options were out there for me. They really helped me find my path in human development, and for that I'm really thankful.
Establishing good relationships
Whenever possible, visit with your professors of on day one and introduce yourself. I've made some of my best connections with faculty by just letting them know my name and get familiar with my face. They're able to give me that extra accountability I need to succeed in my classes.
You'd never guess …
In high school, I played the mellophone and French horn in band and sang in three choirs. I love music that makes you stop and think. I'm super creative and I love finding new projects. I've been known to spend hours on Pinterest and YouTube looking for new DIY projects. I'm a hardcore believer that you can make almost anything with a little glue and a lot of hard work.
How K-State has changed me
K-State gave me mentors to study, model after and strive to become. I wouldn't be the professional that I am today — and am continuing to become — without their influence. K-Staters are known to be so generous to others with their advice and time. That's just the Wildcat Way.