Admissions representatives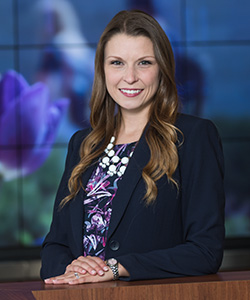 Aaron Neely
Email: kstate15@k-state.edu
Phone: 785-532-1521
My territory
I work with transfer students from Southeastern, Central and Western Kansas, Nebraska, Missouri, Oklahoma, Texas and western states. I also work with military and returning students.
Call today to schedule your campus visit and get a glimpse of the K-State experience. We hope to welcome you soon as the newest member of our Wildcat family!
Fast facts
Major: Communication studies
Minor: Leadership studies
Hometown: Topeka, Kansas
College activities: Snyder Leadership Legacy Fellows program, Goodnow Hall Resident Assistant, Honors House, Christian Challenge and Phi Theta Kappa Honor Society
My K-State experience
I grew up knowing I loved K-State, so I knew this is where I would end up for college. I love the culture, the people, and the community. The term "family" goes way beyond just a word to toss around; this is a caring and supporting group of people.
Learn more about Aaron
How K-State stands out
K-State is uniquely Kansan, but is open and inviting to other groups of people. The town as a whole embraces its Midwest roots while maintaining an inclusive environment. Not only do more Kansas high school graduates choose K-State than any other school, but we also have an alumni base that can compete against any school in the nation.
Favorite local spot
My favorite place in town is "Top of the World," a beautiful spot overlooking the city off of Seth Child Avenue. I proposed to my wife there on March 31, 2014. You'll get a great view of Manhattan and the surrounding Flint Hills.
Why K-State is special to met
The passion of students and alumni create an amazing bond that we all share. I'm also proud of our research focus, and our dedication to giving back to the world through veterinary medicine, engineering, agriculture and many other areas.
Favorite campus hangout
Definitely visit Call Hall for a scoop of Purple Pride ice cream, but don't forget to check out the Staley School of Leadership Studies. The faculty members are awesome and the building is beautiful. We can always learn something more about becoming a better leader and positively affecting the world around us.
The value of a K-State education
To stay competitive in an ever-evolving job market, college degrees are becoming essential to building a great career. You have to find a way to stand out among your competitors to potential employers. A K-State degree symbolizes your fortitude to take hard classes, drive to be successful and a wide variety of experience.
Favorite student organization
The Snyder Leadership Legacy Fellows program taught me to implement Coach Bill Snyder's 16 Goals for Success into my personal life to build my leadership skills. I learned from the experiences of Coach Snyder, leadership faculty and alumni. Overall, this was a lifetime experience that shaped my time here.
Best advice
Try to keep in in contact with friends and classmates from each year of college. Make keeping in touch a priority and maintain a strong network. Don't forget about the old friends while making new ones.
Getting involved on campus
The activity fair at the beginning of the school year is a great chance to see a wide variety of organizations. You can sign up and try as many as you want! Also, find an older student who can show you all of the cool getaways that Manhattan has to offer. Ask for directions; don't get lost.
Living with a roommate
Share your space and don't just divide down the middle. Find cool ways to set up your room! If you have roommate issues, ask your RA for assistance. They are trained to help.
Fun facts
I enjoy watching football and basketball, playing Frisbee and volleyball, taking nature walks, and fishing. I also love reading about history, superheroes and giving speeches.
Favorite study spot
My favorite study spots were the study rooms in the Goodnow Hall basement. As an RA, I spent a lot of time there. My favorite snack place was definitely Fuzzy Tacos in Aggieville. You can't beat their nachos!