Admissions representatives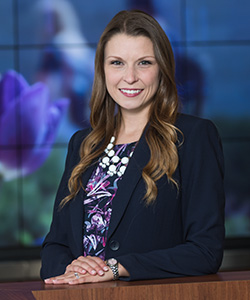 Bill Disberger
Email: kstate15@k-state.edu
Phone: 1-800-432-8270
My territory
I work with transfer students from Central and Western KS, OK, TX and western states
Call today to schedule your campus visit and get a glimpse of the K-State experience. We hope to welcome you soon as the newest member of our Wildcat family!

Fast facts
My degree: I graduated with bachelor's degrees in animal science and agricultural education. I also have a master's in secondary education.
My hometown: Council Grove, KS
College activities: Ag Reps/Ambassadors, Block and Bridle, Ag Ed Club, Livestock Judging Team
My story
I love K-State sports. But in my free time I enjoy golfing, traveling, and I judge livestock shows all over the country.
Learn more about Bill
"My fondest memory of K-State is the personal atmosphere of the campus and its people. Being able to walk into my professor's or advisor's office at any time made all the difference in my success during my time here."
All-star support
The faculty and staff at K-State made me want to come to school here. I knew that from the day I got to meet my advisor, Miles McKee.
Personalized success
The personal touch and investment that you receive from everyone at the university is so special to K-State.
Showing off
I like to take out-of-town guests to Colbert Hills, Manhattan's award-winning golf course.
Lifetime bonds
I'll never forget the friends that I made while at K-State.
Words of wisdom
Do your best to stay ahead of the game. It's easier to do it from the beginning than to try and catch up later.
Life experience
Obtaining a degree in higher education allows you to make yourself a better person through the experiences you go through. The combination of research opportunities, industry connections, internship possibilities and activities will greatly enhance your experience at K-State.
Take a chance
My best tip for getting involved while at K-State is to not be afraid of trying new things. There are so many organizations at K-State. Until you look, you won't know which ones fit your personality.
Write a good first draft
Maintain consistent study habits. Don't cram at the end — it'll only cause you stress.
The roommate debate
Lay down rules and regulations of the house in the beginning. Talk out any problems that arise and do not avoid them — it will only make problems worse.
Down time
I could watch a marathon of "Two and a Half Men."