Admissions representatives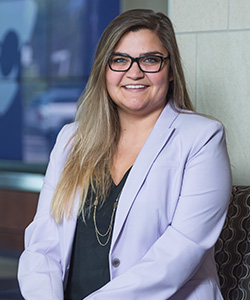 Emily Surdez
Friend me on Facebook

Email: kstate1@k-state.edu
Phone: 1-800-432-8270
My territory
Northwest Kansas, North Central Kansas, St. Louis, Oklahoma, Louisiana, Arkansas, Mississippi, Alabama
Call today to schedule your campus visit and get a glimpse of the K-State experience. We hope to welcome you soon as the newest member of our Wildcat family!
Fast facts
My degree: I graduated with a degree in agricultural communications and journalism.
My hometown: Sabetha, KS
College activities: Blue Key Senior Honorary; College of Agriculture Ambassadors; Student Alumni Board; Kansas FFA Association; Big Brothers Big Sisters; President's Commission on the Status of Women, a professional sorority; Catalyst Technology and Media Services student employee.
About me
I love reading all types of books and having meaningful conversations over coffee with friends.
Learn more about Emily
How I picked my major
My professors helped me through the process of searching for another major after I decided agricultural education wasn't for me. During my junior year, I realized that agricultural communications and journalism would be perfect because I could combine my interests in writing, agriculture and talking with people.
How K-State adds to the value of higher education
At K-State students not only learn the practical skills needed for their careers, they also experience personal growth. By participating in some of the more than 475 student organizations, students gain leadership, interpersonal communication and teamwork abilities. K-State provides the perfect environment to grow as a person while developing workforce competencies.
Fun activities students should take advantage of
The Union Program Council does a great job of bringing low-cost or free entertainment to K-State. One of my favorite activities is watching
K-State Idol, where students compete in front of judges to be the idol of the year. Some other cool events the Union sponsors are Dancing with the K-State Stars, watching a hypnotist, getting free dating advice from a doctor of love and much more.
How to establish good relationships with professors
Introduce yourself to professors on the first day of class. If you get to know them and show them that you are making a sincere effort in class by asking questions, you will build good relationships.
How to prepare for tests and projects
Start early by making a study plan. When you break down studying for tests or working on projects into smaller segments, they are much more manageable. Once you have broken down the material, set short deadlines for yourself so that you are never studying or working on too much at once. When you reach your test day or project deadline, you will have done a quality job because you were not cramming or working on it at the last minute.
Where I take out-of-town guests
I love taking guests to Memorial Stadium. On any given day, you will find teams practicing various sports on the field and other students running the stairs. It holds special memories for students and alumni.
My favorite college memory
My trip to Boulder, CO, for the K-State vs. Colorado game with Blue Key Senior Honorary was filled with endless laughter, school pride and bonding.
One place everyone should visit on campus
Everyone should check out the School of Leadership Studies. It's the newest building on campus, and it's a LEED Gold certified, environmentally friendly building. The architecture and various pieces of artwork that decorate the halls are beautiful.
Influential book I read while I K-State
For Introduction to Honors, we read "A Long Way Gone." It is a true, biographical story about a child soldier's struggles in Darfur. The book opened my eyes to the issues that thousands of people are facing in that region of Africa. It showed me the importance of cherishing human life. It increased my desire to serve others, to help them in any way possible.
Roommate advice
Living with other people is challenging, but as long as you have an open line of communication, you can handle any situation. Get to know your roommates, and build trusting relationships with them. Establish that line of communication immediately, so that everyone knows if they have a problem, it should be calmly discussed.
How I changed during my time at K-State
The people I met at K-State are incredible; they motivate you to achieve your potential, and really challenge you to grow. Mentors helped me to hone my purpose, showing me that it is possible to make a positive impact wherever you are. Through personal growth opportunities, my traits of responsibility, communication and conflict management have increased. I would not have had the same experiences anywhere else.
A Manhattan must-do for students
Go to So Long Saloon and order the chipotle raspberry and black bean dip. It may change your life.