September 16, 2013
2013 All-University Campaign kicks off with ice cream socials in Manhattan, Salina and Olathe
Submitted by Susan Wolf Berhow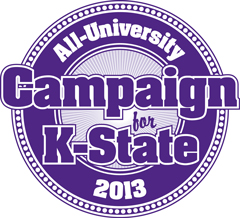 This year's All-University Campaign for K-State will kick off this week with ice cream socials in Manhattan, Salina and Olathe. All faculty and staff are invited to help celebrate the beginning of this year's campaign and K-State's culture of philanthropy.
An ice cream social on the Manhattan campus will take place from 2-3:30 p.m. tomorrow — Tuesday, Sept. 17 — on the Anderson Hall Lawn. The Salina campus ice cream social will be 2-3 p.m. Wednesday, Sept. 18, at the Technology Center Commons. The Olathe campus's ice cream social will take place from 3:30-4:30 p.m. Friday, Sept. 20, in the Bistro.
The All-University Campaign for K-State is an internal fundraising effort run by campus faculty and staff volunteers specifically focused on the participation of all employees including the Manhattan campus, K-State Salina, K-State Olathe, K-State Alumni Association, KSU Foundation and K-State Athletics. It is an annual campaign for all members of the campus community to participate in by supporting the areas of the university they care about most.
Last year's campaign had record‑breaking results, including:
42 percent overall participation rate — a 3 percent increase from 2011
More than 2,100 faculty and staff made a gift to the campaign
192 faculty and staff made their first gift to K-State during the campaign
51 made a gift through payroll deduction
More than $1.3 million dollars raised during the 2012 campaign
To learn more about the All-University Campaign for K-State, visit the All-University Campaign website or follow the campaign on Facebook and Twitter.