August 28, 2013
Letter from A.D. John Currie: Football home opener just two days away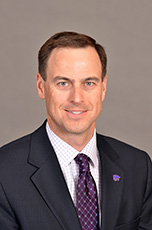 Good morning, K-State Fans!

The fall semester is underway, and we are just two days away from our sold-out football opener against North Dakota State. Coaches Snyder, Fritz and Smith have been hard at work preparing our football, volleyball and cross country teams for season debuts.

Before we continue our look at all of the fan experience enhancements at Bill Snyder Family Stadium this season, I want to take a moment to commend our student body and student athletes. Sunday night's new student convocation and Week of Welcome pep rally were terrific, and the enthusiasm displayed by the 6,000-plus students in attendance has me even more excited for Friday's game. This event has grown annually and is one that has become really special. Seeing all of our students — international, in-state, out-of-state and student athletes — gather together to officially kick off the semester is another unique aspect of what makes K-State so special. After the pep rally, I know our student section of 9,000-plus strong, plus our band, cheerleaders and Classy Cats, will be rocking on Friday!

Last week we announced myriad new initiatives to enhance the game day experience for all of our fans and also began looking at several key improvements that we have added in Phase II of the Bill Snyder Family Stadium Master Plan in time for this season (thanks to your support) — in addition to the massive West Stadium Center structure. My last letter talked about the south concourse expansion, and today I want to address the new lighting that has been installed both inside the stadium and in surrounding areas.

Many of you may recall in previous seasons that when we had prime-time night games broadcast in high definition, television networks brought in extra lighting to ensure that the brightness met their standards. Light levels are measured in foot-candles and in previous seasons our old stadium lighting system — four 140-foot high poles on the west side and two on the east constructed in 1983 — was capable of emitting approximately only 60-65 foot-candles of light onto the field.

Now with the addition of our four new lighting banks — two atop the West Stadium Center and two now affixed to the east side upper deck — our new balanced system recently tested at more than 100 foot-candles as each individual lamp has been strategically aimed for equal distribution to all areas of the field. Technological advances plus closer proximity to the field than our previous poles will make for a vastly improved setting for our student athletes, fans, television partners and photographers. Let me know what you think next week!

Fans at the game on Friday will also notice the addition of new parking lot lighting on both sides of the stadium for increased safety and security. We want our fans to feel safe and secure when parking and walking to and from the stadium, and the addition of eight total light poles will be very beneficial. You can check out all of our new lighting improvements by watching this video tour with K-StateHD.TV video producer Jay Moline and me.

It will be a busy and exciting few days ahead. Click here for details surrounding Friday's West Stadium Center Dedication Celebration and also keep in mind all of the traffic updates and information surrounding the game. As you walk around the stadium Friday and see the improvements that we have made, let us know what you think and if you see anything that needs to be addressed.

Have a great week, and stay tuned for more West Stadium Center updates on Twitter, including a look at our Gate A entrance and north plaza area.

Friday will be here before we know it!
Go 'Cats!

John Currie