May 5, 2023
K-State Business Innovation Challenge awards more than $10,000 in scholarships to competition winners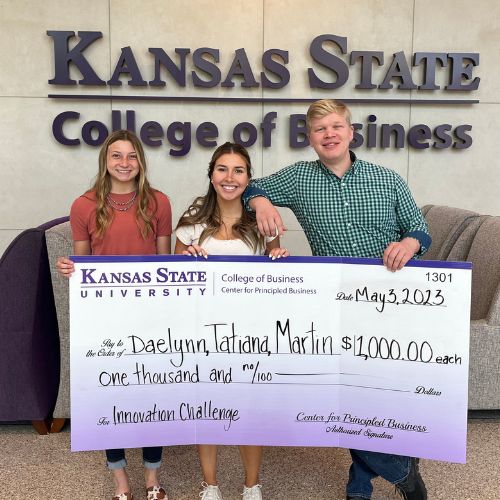 The Center for Principled Business hosted its fourth annual spring competition, the Business Innovation Challenge, powered by Koch Industries. Students who participated in the competition identified a problem or challenge facing the K-State or Manhattan communities and developed recommendations to address the challenge.
The goal of the challenge is to encourage students to develop an innovative product, service, process or technology to solve real-world problems while developing critical thinking, teamwork and communication skills.
Six teams advanced to the final round and presented to a panel of K-State alumni industry professionals. This year's judges were Nick Chong, head of global support and services, Zoom; Victor Ojeleye, Business Group FP&A Planning and Reporting manager, Cargill; Kenneth Selzer, former executive managing director, Aon; and Katie Small, industry engagement manager, Kansas State University Innovation Partners.
"It was a difficult decision for the judges this year," said Marcia Hornung, director of the Center for Principled Business. "Students found a wide range of innovative solutions to challenges they have identified in our community. We are proud of our students' success and thankful for the investment from alumni, faculty, community members, and the industry partners who volunteered their time to support the Innovation Challenge."
This year's winners:
First-place winners received $1,000 per team member for "Food Insecurity at Kansas State University," a proposal to make Cats' Cupboard more accessible and less stigmatized through an online application. Team members are Daelynn Peine, Garnett; Tatiana Lesme, Paraguay; and Martin Morgan, Topeka.
Second-place winners received $750 per team member for "Building a Better Grocery Store for Manhattan." Team members are Kendall Spencer, Penngrove, California; Leon Roberts, Leavenworth; Madi Smedra, Burlington; and Kevin Robles, Garden City.
Third-place winners received $500 per team member for "Finding a Spot for K-State Parking." Team members are Caleb Kern, Overland Park; Harrison Lowe, Olathe; Makrae Rhodes, Wichita; and Brenden Lafferty, Vallejo, California.
Honorable mention teams received $250 per team member:
"The Lavender Lounge: A Relaxation Space for Reducing Anxiety — and Stress among College Students at Kansas State University." Team members are Alex Anderson, Papillion, Nebraska; Caroline Barber, Wichita; Derrick Harrington, Manhattan; Allison Oberle, Olathe.
"K-State College of Business Desire Path." Team members are Seth Thompson, Salina; Christine Colwell, Overland Park; Clairen Donaldson, Topeka; and Ashton Wiegand, Junction City.
"A Proposition for A New Required Course to Facilitate a More Informed and Successful Scholarship Search." Team members are Addison Gress, Lenexa; Danson Kariuki, Wichita; TC Levi, Manhattan; and Cameron Pavelschak, Altus, Oklahoma.
The Center for Principled Business engages in teaching and research activities that develop business leaders and enhance societal prosperity. The center offers cross-disciplinary research and academic and co-curricular programs for K-State students, high school students, and working professionals.