February 17, 2023
Two K-Staters receive national Blue Key awards
Submitted by K-State Blue Key Senior Honorary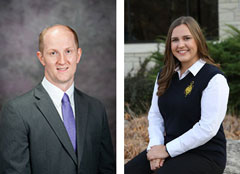 Logan Britton, assistant professor of agricultural economics, and Abby Goins, recent K-State graduate, received awards from the Blue Key Honor Society during the 2023 Blue Key National Conference.
Britton received the Outstanding Advisor Award, which recognizes an advisor who has excelled in service to a local chapter and the national society. Goins received the Gregory Lee Smith Exemplary Member Award, which recognizes a member who demonstrates excellence in scholarship, leadership and service during their time in a Blue Key chapter. Goins earned a $1,000 scholarship for this recognition.
Britton joined K-State's Blue Key chapter as an advisor in 2020. He oversees chapter programs related to nationals, scholarships, banquets, personal and professional development, LeadX peer workshops and the Catalyst self-development course. In addition to providing general operational support for the chapter, Britton offers guidance and direction to members determining their postgraduation plans.
Beyond his service to Blue Key, Britton engages with students as an advisor to College of Agriculture Ambassadors, an academic advisor to more than 20 undergraduate students, an instructional mentor to doctoral students and a chair or member of graduate student committees.
Goins graduated with a bachelor's degree in agricultural economics from K-State in 2022 with magna cum laude honors. As a student, she was actively involved with College of Agriculture Ambassadors, Kansas FFA Association, Food Security Scholars and the Barry Flinchbaugh Food and Agricultural Policy Fellowship.
During her time in K-State's Blue Key chapter from 2021-2022, she coordinated the recognition of student and advisor leadership on campus through a leadership appreciation reception and advisor appreciation week. Goins held additional responsibilities with the chapter, which included managing the chapter's budget and finances.
Blue Key Honor Society is a premier honor society that recognizes college students at senior institutions of higher education for balanced and all-around excellence in scholarship, leadership and service. Blue Key has more than 50 chartered collegiate chapters across the United States.