May 14, 2013
2013 grain science and industry outstanding graduate students honored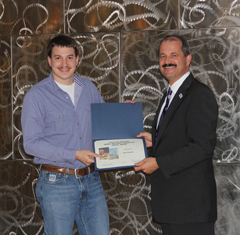 Grain science and industry recognized the following outstanding graduate students at the fifth annual Outstanding Student Scholarship and Awards Banquet on April 24.
Ingredion Outstanding Graduate Students award -
Meng Xue, doctoral student
Elyse Buckley, master's student
Dr. C.E. Walker International Graduate Student Fellowship –
Moses Khamis, doctoral student
Juhui Jeong, master's student
Anheuser-Busch Company Scholarship – Sherrill Cropper, doctoral student
Rene Buhler Memorial Scholarship – Jonathan Wilson, doctoral student
Cain Land and Grain Value Added Agriculture Scholarship – Kyle Probst, doctoral student
Min Long Liao and Paul Seib Achievement award – Meng Xue, doctoral student
Lola Lee Jackson Animal Welfare Travel award –
Ryan Roberts, master's student
Michael Joseph, doctoral student
Majel MacMasters Memorial award – Yixing Zhang, doctoral student
2013 K-State Bioenergy Symposium Poster Competition – Yadhu Guragain, doctoral student, first place
The Next Big Thing Awardees – Sarah Gutkowski, master's student and Kyle Probst, doctoral student, bronze round winners for "Bitter Relief."