November 2, 2022
Carl R. Ice College of Engineering honors pair with Sue Barsamian Awards for Excellence in Diversity and Inclusion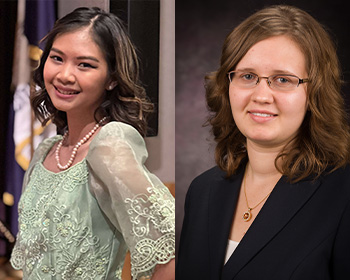 As part of its sixth annual Diversity, Equity and Inclusion Summit on Nov. 1, the Carl R. Ice College of Engineering presented a pair of awards designed to honor a student and faculty or staff member demonstrating excellence in enhancing diversity and inclusion in the college.
The awards, endowed and first presented by alumna Sue Barsamian in 2021, were given to Abby Aguilar, sophomore in biomedical engineering, and Melanie Derby, associate professor of mechanical and nuclear engineering.
Aguilar, recipient of the Sue Barsamian Engineering Student Award for Excellence in Diversity and Inclusion, has been actively involved with diversity and inclusion initiatives despite her short time at K-State. She is involved with the K-State chapter of the Society of Asian Engineers and Scientists and founded the College of Engineering International Events Committee. She also participated and won the Miss K-State competition, representing the Philippines Student Association, and serves on the Engineering Student Council's diversity, equity and inclusion wing as the community relations chair.
Outside of K-State, she has worked with the Kansas Prevention Collaborative and spoken on racial equity at the Kansas Youth Community Change Conference and Advocacy Days in Wichita.
Derby, who holds the Hal and Mary Siegele professorship in engineering, directs the Rural Resource Resiliency National Science Foundation Research Traineeship, or R3NRT, which has been working to foster a culture of inclusion and create a diverse and supportive community. The R3NRT first cohort is 50% women, and the second cohort is 50% women and 25% underrepresented groups.
Derby has previously won the K-State Multicultural Engineering Program Faculty Engagement Award and has received the Diversity and Multicultural Student Affairs Family Recognition pin.
Each recipient received a plaque and cash award at the ceremony, which featured Kristen Harris, vice president of enterprise diversity, equity and inclusion at Hallmark Cards, as the keynote speaker alongside a panel discussion and breakout sessions on the central topic of allyship.