November 2, 2022
Kilgore invited to perform at 2023 International Trumpet Guild Conference
Submitted by School of Music, Theatre, and Dance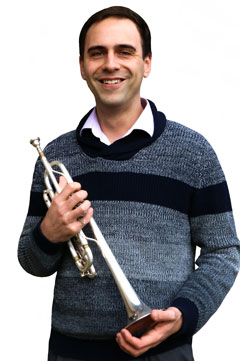 John Kilgore, instructor of trumpet, has been invited to perform at the 2023 International Trumpet Guild Conference in Minneapolis, Minnesota.
The conference's New Works Committee received 156 submissions from around the world. From this list, the committee selected 15 new works for performance at this year's conference. Kilgore will perform "Parallel" composed by Juan Carlos Valencia Ramos.
With membership spanning 56 countries, the guild is the world's largest organization dedicated to research, performance, education and scholarship related to trumpet.
Kilgore joined the faculty at Kansas State University as instructor of trumpet in 2019. He is also principal trumpet of the Boise Philharmonic, Ballet Idaho, performs with the Wichita Symphony and regularly publishes in the International Trumpet Guild Journal.
Faculty in the School of Music, Theatre, and Dance have received Grammy and Emmy awards and nominations, produced recordings on international and national CD labels, published books and journal articles with international and national publishing houses and professional organizations and performed and presented research in every continent in the world except Antarctica. The School of Music, Theatre, and Dance is a part of the College of Arts and Sciences. Visit the school's website to learn more about music, theatre and dance at K-State.