August 29, 2022
College of Business faculty recognized by Academy of Management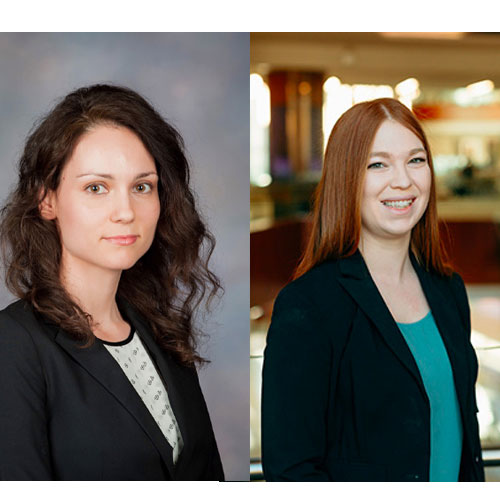 A paper co-authored by two Kansas State University College of Business faculty has received the 2022 International Management Division Best Paper in Corporate Social Responsibility and Sustainability Award at the Academy of Management annual meeting in Seattle.
Tsvetomira Bilgili and Holly Loncarich partnered with the University of Akron's Debmalya Mukherjee, professor, and Erin Makarius, associate professor, on this work. Bilgili and Loncarich are both assistant professors in K-State's department of management.
Their paper, "The Role of Corporate Social Irresponsibility in Cross-Border Acquisitions," explores the challenges faced by firms that seek to acquire foreign companies. According to Bilgili, the challenges are even greater when acquiring firms that have been involved in a controversy or scandal — e.g., Volkswagen's emissions scandal, which damaged its reputation.
"In this paper, we investigated how firms that have engaged in corporate social irresponsibility may modify their foreign acquisition strategies by pursuing 'masked acquisitions,' whereby they acquire smaller shares of foreign companies," Bilgili said. "By obtaining a smaller share in foreign companies, acquiring firms use the legitimacy of the local company to mask their own illegitimacy and reduce the likelihood of negative responses from host communities."
The group found that acquiring firms involved in corporate social irresponsibility are more likely to pursue more conservative acquisition strategies; however, these firms are less likely to engage in "masked acquisitions" when the host country is less economically developed and when the country's institutions — e.g., level of government oversight — are weaker.
"In those cases, firms involved in corporate social irresponsibility can overcome legitimacy challenges and obtain larger shares in foreign companies," Loncarich said. "However, while firms with damaged reputations may be more confident in acquiring larger shares in firms in such host countries, attempts at evading their social responsibilities may result in further damage of their reputation."
"Our study shows that managers must be cognizant of the reputational damage corporate social irresponsibility can cause and that such damage can make it much more difficult for them to execute their desired international strategy," Bilgili said.
"It becomes significantly more difficult for firms with damaged reputations due to corporate social irresponsibility to acquire large shares in foreign companies, which limits their ability to gain control of and freely manage foreign assets," Loncarich said. "Such firms attract the attention of regulators and, in general, are likely to face greater challenges in gaining the approval of host country communities."
Members of the Academy of Management can read the paper in its entirety online.
Bilgili joined K-State in 2016 after earning her doctorate from the University of Memphis. Her research interests include global strategy, corporate governance and organizational networks. Loncarich earned her doctorate in business administration from the University of Arkansas and joined K-State in 2021. Her research focuses on corporate governance, executive diversity and strategic alliances.
Learn more about College of Business research and the management department.