April 25, 2013
McBride presented distinguished lecture at University of Maine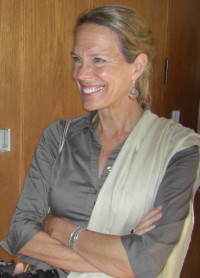 Bunny McBride, adjunct faculty in sociology anthropology and social work and award-winning author of four books, the co-author of the world's leading cultural anthropology textbook, and president of the Women's World Summit Foundation based in Geneva, was the 2012-2013 Distinguished Lecturer Series speaker at the University of Maine at Presque Isle.
McBride delivered her talk "Passages & Portages: Reflections on Writing about Women across Cultures" at 7 p.m. Thursday, April 18, in the university's Campus Center.
During her talk, McBride reflected on recurrent themes she has explored through the lives of women around the world, with a special focus on Wabanakis in Maine — such as work and motherhood, love and loss, strength and resilience. Women from many cultural niches have shared their stories with her, and she with readers — making connections and marking out bridges of common humanity through their words and hers, woven together on the pages of books, articles and essays.