August 25, 2022
Indian Students Association marks 75th anniversary of India's independence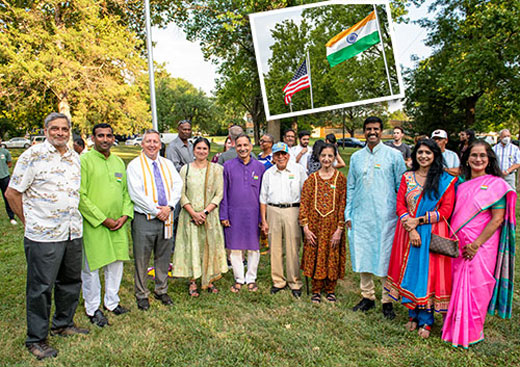 The Indian Students Association at Kansas State University, a registered independent student organization, celebrated India's 75th Independence Day on Aug. 15 at Long's Park in Manhattan, joined by community members from K-State and Manhattan.
To help mark the importance of India's independence from the United Kingdom, the association's faculty advisor Raghu Amachawadi invited K-State President Richard Linton to be the distinguished chief guest for the ceremonies.
"On behalf of the team ISA, we are very grateful to our President Richard Linton for taking some time from his hectic schedule in order to grace this auspicious occasion," Amachawadi said.
The event also featured a chief guest, Vara Prasad, university distinguished professor and director of the Feed the Future Innovation Lab for Collaborative Research on Sustainable Intensification. Two other guests of honor were Jan Middendorf, associate director of Sustainable Intensification Lab at K-State, and Usha Reddi, a Manhattan city commissioner.
Ruchi Chauhan, the association's vice president, welcomed guests with an overview on the importance of Amrit Mahotsav, 75th Independence Day. President Linton hoisted the American national flag followed by the U.S. national anthem performed by music professor Julie Yu and her team. Prasad hoisted India's national flag, followed by the Indian national anthem performed by the attending members of the Indian community. All of the invited guests gave remarks during the formal part of the program.
Other notable K-State and Manhattan community members included Claudia Petrescu, vice provost for graduate education and dean of the Graduate School; Callie Rost, assistant dean for admissions in the College of Veterinary Medicine; Sara Thurston, director of International Student and Scholar Services; John Matta, Manhattan city commissioner; and several more distinguished faculty and staff from K-State.
This year's celebrations had a distinct flavor of Azadi ka Amrit Mahotsav and active wholehearted participation from more than 175 members of the diaspora and friends of India. The program concluded with a communal meal and fellowship time.
"This event was a great, grand success," Amachawadi said. "I've dedicated this success to team ISA and active volunteers for their hard work."
Team ISA members are Deepesh Agarwal, president; Ruchi, vice president; Vidya Nadar, secretary; Rakshith Kumar, past president; Aprajita Tripathi; Debolina Dasgupta; and Viswa Chaitanya Marella. Amachawadi gave credit to ISA active volunteers Prakash Jha, Supriya Jha, Manoj, Poornima Patil and Neeti Gauniyal for their support and help.