August 23, 2022
Herbel Accounting CAT Community welcomes second cohort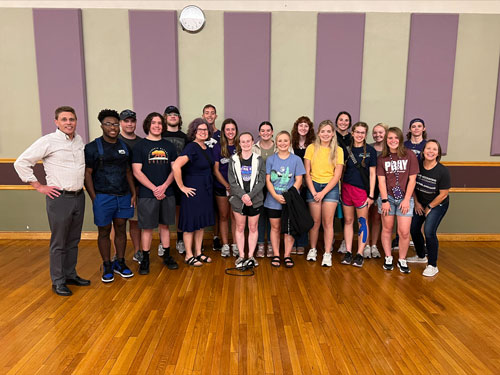 The Vern and Joan Herbel Accounting Academy in the K-State accounting department welcomes its newest CAT Community cohort.
After starting with one CAT Community group last year, the Speak the Language of Business Accounting CAT Community has grown to three separate communities consisting of 34 new freshman and transfer students to K-State.
Throughout the semester, the CAT Community students participate in several experiential learning events that allow them to fully experience accounting in action. In addition to developing personal and professional skills that will help them to be successful while in college and after graduation, they also will build relationships with fellow accounting students, learn success skills to help navigate college and career, and will be exposed to a better understanding the role of accounting in business.
The CAT Community will conclude in the fall with a business and culture experience trip as a cohort to Washington, D.C.
"I had so many memorable experiences on this trip, including meeting the managing director and national managing partner of Grant Thornton international tax services, meeting the staff of both the Kansas senator and congressman, getting a tour of the Russel Senate Office Building, and learning more about our country's history overall," said Linnea Swalwell, accounting CAT alumni and current first-year learning assistant. "Accounting majors are the best!"
"The CAT Community program is a fantastic K-State initiative that plays a vital role in helping new college students to succeed," said Brett Wilkinson, department head of accounting and co-leader of the CAT Community. "I am proud of the work that the Herbel Accounting Academy is doing in supporting and developing our future accounting majors."