April 18, 2013
Alexander renews Master Aviation Educator accreditation
Submitted by Communications and Marketing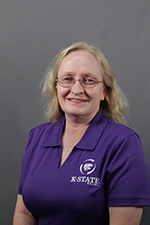 Raylene Alexander, associate professor of aviation maintenance and avionics at Kansas State University Salina, has successfully renewed her Master Aviation Educator accreditation.
The accreditation recognizes individuals who are professional educators in the aviation field but who do not necessarily hold Federal Aviation Administration flight instructor certification. Alexander is one of only 131 people worldwide to earn the credential two times, first earning this national professional accreditation in 2010.
A Marine Corps veteran, she is also active in the University Aviation Association and Women in Aviation.
Alexander is one of nine Kansas State University aviation faculty members who have a master title in aviation. The university's Master Certified Flight Instructors are Kurt Barnhart, professor and head of the department of aviation; Bernard "Barney" King, professor of aviation and the professional pilot program lead; William "Bill" Gross, professor of aviation and chief pilot; Troy Brockway, associate professor of aviation; Thomas Karcz, associate professor of aviation; Eric Shappee, associate professor of aviation; Lowell Hinchee, instructor of aviation; and Andrew Smith, assistant professor of aviation and the aviation maintenance training program lead.
A top aviation university, Kansas State University's aviation program is offered on the Salina campus, which is adjacent to a 12,000-foot runway. The program has a modern fleet of more than 40 learning aircraft and more Master Certified Flight Instructors than any other college or university in the country. K-State Salina offers affordable bachelor's degrees in aircraft maintenance, airport management, avionics, professional pilot, unmanned aircraft systems, technology management and engineering technology. An airframe and powerplant certificate program is also available. More information on Kansas State University aviation programs is available online.