April 18, 2013
English professor's book nominated for comic book industry's most prestigious award
Submitted by Communications and Marketing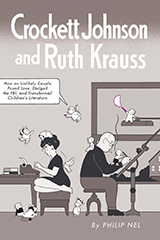 The latest book by Phillip Nel, professor of English and director of the graduate program in children's literature, is in the running for the comic book industry's equivalent of an Academy Award.
Nel's book, "Crockett Johnson and Ruth Krauss: How an Unlikely Couple Found Love, Dodged the FBI, and Transformed Children's Literature," is nominated for a 2013 Will Eisner Comic Industry Award in the Best Educational/Academic Work category.
The Will Eisner Comic Industry Awards, commonly called the Eisner Awards, recognize creative achievement in American comic books. The awards are considered the Oscars of comic books, with the nominees and winners chosen by a blue-ribbon panel of judges. Selections range from crime noire to biographical works to works of superhero fiction.
"Crockett Johnson and Ruth Krauss" is an illustrated biography that examines the lives and careers of Crockett Johnson and Ruth Krauss, the husband-wife team that created popular children's books such as "The Carrot Seed" – written by Krauss, illustrated by Johnson – in 1945 and "Harold and the Purple Crayon" – written and illustrated by Johnson – in 1955. Johnson also created the classic comic strip, "Barnaby," which ran 1942-1952 and was a favorite of Dorothy Parker, Duke Ellington and Charles M. Schulz, creator of "Peanuts."
The book, published by the University Press of Mississippi, is available at major brick-and-mortar book retailers and online retailers.
Eisner Award winners will be announced in July at Comic-Con International in San Diego.