April 13, 2022
Conquest magazine showcases K-State cancer researchers and partners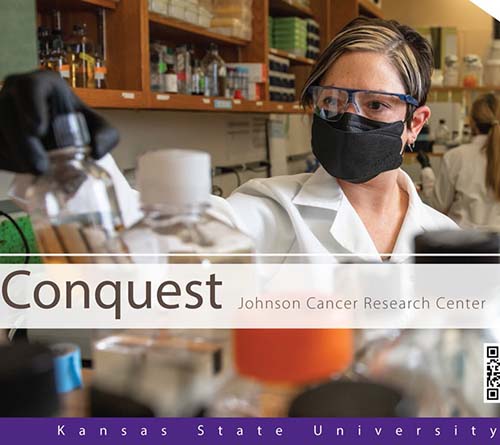 See how K-State is fighting cancer in the 2022 issue of Conquest, published by the Johnson Cancer Research Center. Inside you'll find brief stories spotlighting faculty and student researchers and other partners in the fight.
Read about:
• Microbiology senior Davanté Hammer, who is doing research to fight cancer and gain experience for his future in medicine.
• Biology alumnus Scott Rottinghaus '95, who now helps cure rare diseases.
• Longtime K-State chemist Duy Hua's work to develop cancer early-detection technologies and new drugs.
• Biochemist Erika Geisbrecht's discovery of a protein involved in normal and abnormal cell growth.
• Carl Ade's work in kinesiology to reduce cardiovascular damage caused by cancer treatment.
• Quarterback Skylar Thompson's successful efforts to rally support for K-State cancer research.
• The Linders family's support of junior faculty working on new cancer studies, including biologist Stephanie Shames, who is exploring an idea for fighting leukemia.
Find this issue and past issues of Conquest on the Johnson Cancer Research Center's website.