April 1, 2022
Disability Inclusion Workshop
Submitted by Olivia Law-DelRosso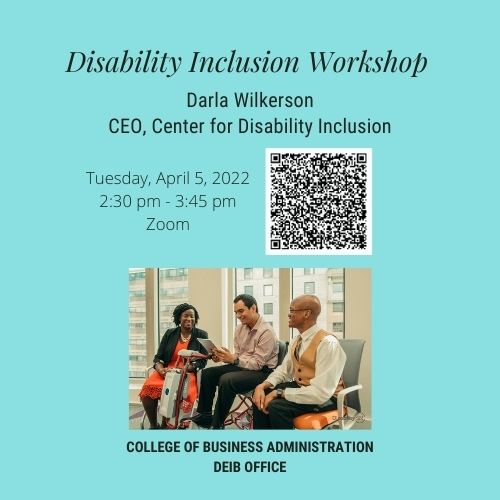 The Office of Diversity, Equity, Inclusion, and Belonging in the College of Business Administration invites you to a Disability Inclusion Workshop from 2:30-3:45 p.m. Tuesday, April 5, via Zoom.
Darla Wilkerson, CEO of the Center for Disability Inclusion, will present a popular training session designed for hiring managers, front-line supervisors and others who manage employees. The presentation will address the primary challenges managers face daily, including how to communicate, how to interact and how to address accommodations. This session will give attendees a safe place to ask tough questions and get direct feedback to help strengthen skills when managing workers and creating a more inclusive work culture.
The Center for Disability Inclusion is a prominent resource in the Kansas City area that partners with businesses for workforce solutions.
This event is offered through the MANGT 560 Diversity and Inclusion in the Workplace course, part of the new DEIB in the workplace certificate. The general public is invited to attend.
Please direct questions to cbadeib@k-state.edu.