March 21, 2022
Food manufacturer supports K-State food science program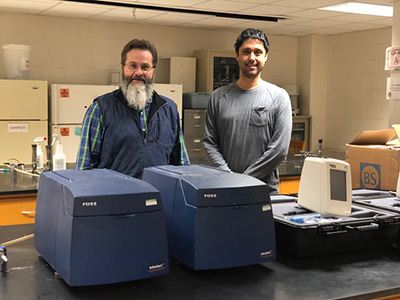 The K-State Food Science Institute recently received a donation of laboratory equipment from Mars Wrigley in Topeka.
The Institute received two Foss InfraXact NIR spectrometer instruments, two Brookfield AMETEK viscometers, two Bellingham + Stanley digital refractometers, and a Mitutoyo digital micrometer. These instruments are used to determine the quality and composition of food products.
Students in the undergraduate food science and industry program and graduate students in the interdepartmental food science program will benefit greatly from the availability of these broad-use instruments in both research and analytical courses.
"We have 'and Industry' in the name of our major for a reason," said Randall Phebus, professor of animal science and industry. "The food industry across the country, and in Kansas in particular, recognizes the value of our graduates to their companies' success and in protecting the integrity of their brands. We are so appreciative of companies like Mars Wrigley, and many others, who support our K-State food science program."