April 11, 2013
Letter to campus from A.D. John Currie: Soggy weather can't dampen success on the baseball diamond and beyond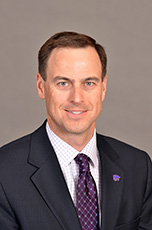 Good morning, K-State Nation.
I trust you are managing the wild swings of weather we are experiencing, but we certainly are all grateful for the moisture that means so much to our agricultural community here in the state of Kansas. Speaking of that, congratulations to Coach Hill and our baseball team for overcoming not just rain and plummeting temperatures last night but also a 6-1 Wichita State lead in the eighth inning. It was a thrill to watch the 'Cats score five runs in the bottom of the eighth and then the game-winner in the bottom of the ninth to beat the Shockers 7-6 and improve to 24-10 on the year, currently the second-best overall win total in the Big 12.
Despite the weather of the last two months our team has not missed a single home game, thanks in part to the hard work of our game operations staff and new full field AstroTurf infill surface we installed two years ago at Tointon Family Stadium – another way your Ahearn gifts and ticket purchases directly impact the student athlete experience and K-State's ability to compete. We especially appreciate the fans and ushers who braved the soggy weather to support the squad to the end!
This past weekend I journeyed to Atlanta for various A.D. meetings surrounding the men's Final Four on Friday and Saturday before making it back to MHK on American Eagle Sunday just in time to catch the third game of our baseball series sweep of Texas Tech. On Saturday morning I attended a very interesting and frank discussion with NCAA President Mark Emmert along with about 90 other athletic directors and commissioners. Clearly there is a feeling among many A.D.'s nationally that they have been somewhat purposely detached from the national policy-making process over the last few years.
I am again reminded how fortunate we are to have an inclusive and communicative leader here at K-State in our President Kirk Schulz. My fellow A.D.'s across the country are very glad that President Schulz is now becoming involved at the highest level as a member of the NCAA (and Big 12) Board of Directors' Executive Committee! I also enjoyed being able to sit at the breakfast table next to my good friend and colleague, Wichita State A.D. Eric Sexton – congratulations to the Shockers on a great NCAA run.
Back in Manhattan we have all kinds of good things going on so here are a few updates for you.
Extension announced for Big 12 Coach of the Year Bruce Weber
I am very pleased with the forward trajectory of our men's basketball program under Coach Weber and his staff, and earlier today we announced a contract extension for the reigning Big 12 Coach of the Year. His annual salary will be $1.75 million for the 2013-14 season, which represents a $250,000 raise, and will increase by $100,000 for each remaining year per his original five-year contract ($1.85 million in 2014-15, $1.95 million in 2015-16, $2.05 million in 2016-17 and $2.15 million in 2017-18). From our first conference championship in more than 36 years to recording the highest number of Big 12 academic honor roll selections in program history this fall, I am extremely excited about the direction of our program under his leadership. Did you know that K-State led the Big 12 in five statistical categories, including scoring defense (60.4 ppg.), turnover margin (+2.6), assist-to-turnover ratio (1.4) and offensive rebounds (13.4) this past year? The team also tied or set three K-State single-season records in 2012-13, including wins in Bramlage Coliseum (16), assists (557) and assist-to-turnover ratio (1.4), and drew the second-most fans to its home schedule with 225,503 filtering through the turnstiles at Bramlage Coliseum and the Sprint Center. Click for our full release.
Volleyball selected to represent Team USA in Russia
In a special press conference yesterday, we made an exciting announcement that our Wildcat volleyball team will be afforded a once-in-a-lifetime opportunity this summer as it has been selected to represent and compete for Team USA at the 2013 World University Games in Kazan, Russia. When we talk about providing a world-class student athlete experience, what better way than for our young women to travel across the world and represent not only K-State but the United States as well! I'm sure it will be an emotional experience for our coaches and players when they step out on that court, and one that they will all remember for the rest of their lives. Click for more information which includes a World University Games homepage and videos from yesterday's announcement.
Special Olympics Day at K-State
Many of our student athletes were busy last Sunday prior to our baseball game with Texas Tech hosting nearly 100 Special Olympians from the North Central Region of Kansas. Hosted annually by our Student Athlete Advisory Committee, the event took place in the indoor football facility where multiple sport stations were set up with the Special Olympians going from station to station. Many student-athletes I visit with regularly talk about this being one of their favorite service opportunities of the year. Click for a video feature on this year's event.
Be a Part of the West Stadium Center
With the semester rapidly coming to a close, there is still time to become part of the historic West Stadium Center at Bill Snyder Family Stadium by taking part in the Legacy Brick Program. My family surprised me with one earlier this month as a birthday present! With the deadline on May 3, be sure to order your brick today, and etch your name and personal message into a legacy brick as they will be embedded in the West Stadium Center Plaza. This institutional landmark is a transformative project that is expanding to create the ultimate fan "game-day" experience, secure a competitive edge for our student athletes and build a beautiful Northwest gateway to the K-State Campus. To place your order, please call 855-K-STATE-1 (855-578-2831) or click to order online now!
Chambers and McGruder Continue to Leave their Mark
We are so proud of both of our basketball programs on successful seasons, including five total seniors who made an indelible mark on K-State. Two of those seniors, Brittany Chambers and Rodney McGruder, continue to add to their already full Wildcat resumes. Brittany was named to the WNIT All-Tournament team following an impressive run and then was honored with Second Team Senior CLASS All-America accolades which is a testament to her athletic, academic and community achievements. Rodney traveled to Atlanta over the weekend and played a key role in the East squad's win in the College All-Star Game while also competing in the 3-point contest the previous day. After being named an honorable mention All-American earlier in the week, Rodney also was invited to prestigious Portsmouth Invitational Tournament, which is one of the premier NBA pre-draft camps, this week. Congrats to both!

Great crowds aupport Bat Cats in sweep
We have a terrific baseball scene at Tointon Family Stadium, and this past weekend was a great example of how impactful our fans can be on the games themselves with the fourth-highest series attendance total in school history. A national FCS audience saw the Cats rally in the ninth inning Friday for a 6-5 win and our fans enjoyed a postgame fireworks show before two big wins on Saturday and Sunday. At 24-10 and 6-3 in Big 12 play, the Cats are receiving votes in the national polls this week heading into this weekend's series at Iowa. And speaking of our FCS telecasts, our progress with K-StateHD.TV, which has led to many of our in-house-produced events being aired live on the FOX platform, has brought terrific national exposure for our program and our university. Even former pro football star Troy Aikman has tuned in to watch some K-State baseball this spring thanks to our partnership with FOX!
Equestrian picks up all-America/academic honors heading into nationals
Our fifth-ranked equestrian team, coming off a runner-up finish at the Big 12 Championships, continues to see honors come its way as 17 student athletes recently earned academic honors by the National Collegiate Equestrian Association, while four others were named all-Americans. Congrats to Meredith Finch, Hannah Ribera, Rachel Webster and Kali Yates on all earning All-America status, giving the program 10 all-America selections over the past three years. Coach Lisabeth and the squad will next head to the NCEA National Championships in Waco, Texas, April 18-20.
Finally, both golf teams begin preparations for the Big 12 Championships later this month, while the rowing squad next heads to Tennessee for SIRA's. K-State will serve as the host institution at the men's golf championship at Hutchinson's Prairie Dunes Country Club April 22-24.
Best of luck to our teams in action this weekend which includes two tennis home matches Friday and Saturday at 1 p.m. The location of the tennis matches will depend on the weather — you can follow k-statesports.com for updates. Baseball is scheduled for three games against Iowa, Friday and Saturday in Iowa City and Sunday at Principal Park in Des Moines, while our track and field teams will also send a strong contingent to Wichita on Saturday.
Thank you for your continued support of K-State student athletes!
Go Cats!

John Currie