March 7, 2022
Jerry Jay Cranford recognized as Professor of the Week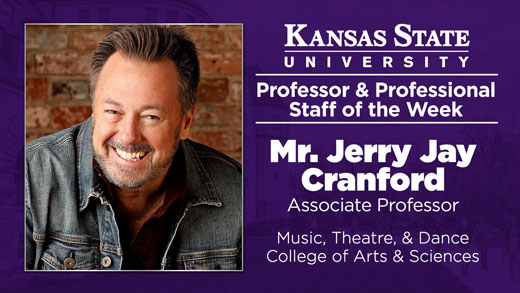 Jerry Jay Cranford, associate professor of theatre, was recognized as Professor of the Week at the March 5 men's home basketball game.
Faculty Senate, the Office of the President, K-State Athletics and the Division of Communications and Marketing wish to recognize his contributions to K-State.
Cranford first came to K-State as a guest artist in 2012 then returned in 2013 as an instructor, moving into his current position as an associate professor of theatre and head of the acting and directing faculty. Before stepping into academia, Cranford starred in the national tours of "Singing in the Rain," "Anything Goes," the European tour of "Evita" and spent seven years with the Broadway and national tour of "Les Miserables." He has performed with Colm Wilkinson, Sutton Foster, Lea Salonga, Norm Lewis and Andrea McCardle. He has also performed at The Muny in St Louis, North Shore in Boston, Casa Mañana in Fort Worth and spent four years at the Disneyland Resort in Anaheim, appearing as the Genie in their stage musical of "Aladdin."
In his continuing creative work and research, Cranford travels the country as a professional director and choreographer, championing K-State talent. Most recently, he reopened Kansas City's Starlight Theatre with a fully union production of "Godspell," featuring K-State students and alumni on and off the stage. Other projects as a director and choreographer have included Starlight's "Hairspray," starring two-time Tony nominee Brad Oscar, which received the Broadway World Award for Best Musical Production; "Newsies" in Kansas City, winner of the Broadway World Award for Best Director of a Musical; and the world premiere of "Madagascar: A Musical Adventure," created with Dreamworks and Music Theatre International. Each of these projects featured numerous K-State theatre students. Cranford garnered two Canadian Ovation nominations for his Vancouver, B.C., production of "The Marvelous Wonderettes" and was selected Best Director of a Musical by the Omaha Arts and Entertainment Council for the Rose Theatre's "Newsies."
During the pandemic, Cranford, aided by music and theatre faculty members Paul Hunt, Amy Rosine, James Davis, Dana Pinkston, Ben Stark and Kathy Voecks, created a revue of new musicals in development by four prominent K-State alumni. The production provided students with a performance outlet and was performed outdoors at West Memorial Stadium in April 2021. After a year of not being in our wonderful theatre facilities, he welcomed everyone back on Sept. 30, 2021, with the pop musical "Working," a celebration of the working man with music by James Taylor, Lin-Manuel Miranda and Stephen Schwartz. When not roaming the halls of Nichols, Cranford takes on his favorite role as husband and a father to his two loving daughters.