February 1, 2022
K-State Theatre and Ebony Theatre present Pulitzer Prize-winning drama 'Sweat'
Submitted by Jerry Jay Cranford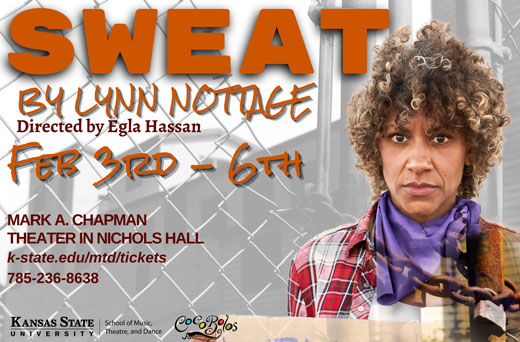 K-State's Ebony Theatre begins its 50th year on campus with the K-State Theatre mainstage co-production of the Lynn Nottage 2017 Pulitzer Prize-winning drama "Sweat."
Performances are 7:30 p.m. Feb. 3-5 and 2:30 p.m. Feb. 6 on the Chapman Stage in Nichols Hall. The opening night performance will be followed by a talkback focused on issues presented in the script led by Doris Carroll, K-State associate professor of special education, counseling and student affairs, and guest director Egla Hassan along with members of the cast.
"Sweat" tells the story of a group of friends who have spent their lives sharing drinks, secrets and laughs while working together on the factory floor. But when layoffs and picket lines begin to chip away at their trust, the friends find themselves pitted against each other in a fight to stay afloat. This production deals with adult themes and contains references to racism, anti-immigrant speech, sexism, violence, brain injury and ableism.
Hassan has spent most of her adult life engaged in some form of theatrical pursuit. She is an accomplished director and professor of theatre whose 32-year career at Western Illinois University includes heading the Master of Fine Arts program in directing and helping young theatre artists to find their own voice. Now retired from teaching, she is a freelance director who looks for opportunities to tell stories that give audiences a look at our world, and sometimes, a mandate — or a suggestion — to make it better.
Production: Kathy Voecks, scenic designer; James K. Davis, sound and lighting designer; Dana Pinkston, costume designer; Ben Stark, technical director; Janelle Augustine, stage manager; and Kayli Ecklund, assistant stage manager.
Cast: Armando Alicea-Perez, Audrey Burgoon, Clever Christman, Lindsey Edwards, Marcus Edwards, David Grigsby Jr., RD Pipkin, Tara Sitzmann-Darling, and Jackson Wilks.
Made possible in part with funding from the Student Government Association.