December 17, 2021
Happy holidays from the College of Ag/KSRE Diversity Programs Office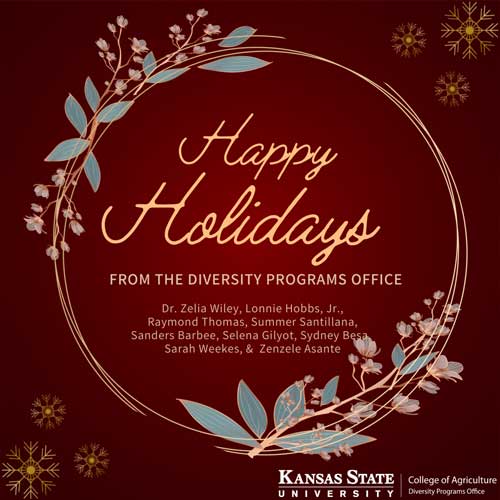 Season's greetings from the College of Agriculture and K-State Research and Extension Diversity Programs Office! The fall 2021 semester has been a time for growth, whether it was virtual or in person. Thanks to everyone who continued to support our diversity and inclusion programming efforts throughout this past semester. They have been a success because of all of you!
Congratulations to our Diversity Programs Office, Project IMPACT, and Minorities in Agriculture, Natural Resources, and Related Sciences, or MANRRS, 2021 students who graduated:
• Jordan Bailey, 2018 and 2019 MANRRS president, campus outreach, Birmingham, England.
• Maria Kimzey, 2020 MANRRS president, KSU Foundation, Manhattan.
• Summer Santillana, 2019-2021 DPO undergraduate assistant, K-State College of Ag DPO coordinator, Manhattan.
• Ana Lorett, 2019 and 2020 MANRRS community service officer, Sunset Zoo, Manhattan.
• Marisa Avila, 2017 MAPS and Project IMPACT scholar, Sea Life Aquarium, Kansas City, Missouri.
We would like to thank these graduates for their contributions. We look forward to seeing these students use what they have learned throughout their academic careers to strive and become successful.
Special thank you to everyone for supporting the Diversity Programs Office with your continued attention and assistance with our programs. We are pleased to say that it has been a successful semester.
We appreciate the work of the DPO staff: Zelia Wiley, Summer Santillana, Lonnie Hobbs Jr., Raymond Thomas, Sydney Besa, Sarah Weekes, Zenzele Asante, Selena Gilyot and Sanders Barbee.
Happy holidays! Remember to wear a mask and social distance as we move into the holiday season.
For more information on future events, please contact Wiley by email or the DPO at 785-532-5793.