December 13, 2021
All-university retirement reception to honor President Richard Myers today
Submitted by Office of the President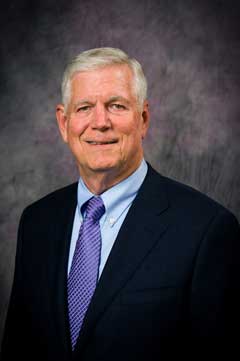 The K-State community is invited to an all-university retirement reception honoring President Richard B. Myers and first lady Mary Jo Myers from 3-5 p.m. today, Dec. 13, in the K-State Student Union Ballroom. As previously announced, President Myers will be retiring from Kansas State University in February 2022 when President-elect Richard Linton assumes his duties.
Doors will open at 3 p.m. and face masks will be required. The program will begin at approximately 3:20 p.m. and will include remarks from university leaders and several surprises. Call Hall ice cream and other refreshments will be served.
Several have asked about making donations in recognition of the leadership and service that the Myerses have contributed to the university over the past five and one-half years. Contributions may be made to the Richard and Mary Jo Myers K-State Excellence Fund through the KSU Foundation website or checks can be made payable to the KSU Foundation with Richard and Mary Jo Myers K-State Excellence Fund (M47378) in the memo line and mailed to the KSU Foundation, 1800 Kimball Ave., Suite 200, Manhattan, KS 66502. The Myerses will designate how the funds are to be used by the university.
Please join the K-State community in recognizing President Myers' career at K-State and wishing him and Mary Jo well in retirement.