September 10, 2021
Show gratitude by sending a note of appreciation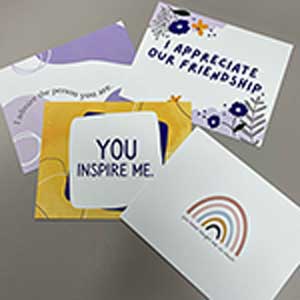 Suicide Prevention Awareness Week is Sept. 5-11. Suicide affects all ages. It is the second leading cause of death for people ages 10-34, the fourth leading cause among people ages 35-44, and the fifth leading cause among people ages 45-54.
Did you know that writing a simple letter can reduce the number of suicides? You may never know how much difference you'll make in someone's life by writing a simple note or letter of encouragement.
Thrive Navigators, a registered departmental student organization, will host a postcard writing station from 10:30 a.m. to 12:30 p.m. Friday, Sept. 10, at Bosco Student Plaza to give people the opportunity to tell someone how much they are appreciated. It has been proven that expressing gratitude and appreciation for people in your life not only brings positivity to the recipient, but it also can boost the sender's positivity and outlook for the future. Give thanks and build optimism with an attitude of gratitude. Pens, postcards and postage will be provided to send a letter of appreciation to someone that has been a positive influence on the writer.