July 14, 2021
Robert Large named senior associate general counsel
Submitted by Office of General Counsel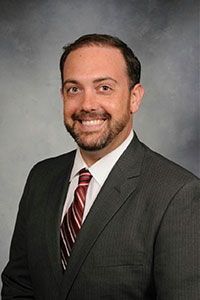 Robert Large, an attorney in the Office of General Counsel, has been named senior associate general counsel.
Large, who has been with the Office of General Counsel for nearly four years in total, was appointed to the position by General Counsel Shari Crittendon.
"Robert has consistently demonstrated excellence and innovation in his work, resulting in meaningful contributions throughout his tenure," Crittendon said. "He is an invaluable and integral part of the OGC team."
The appointment became effective Sunday, July 11. Large most recently served as acting deputy general counsel while the university searched for a deputy general counsel.
As senior associate general counsel, Large will continue to provide legal advice, assistance and representation to all university campuses, reporting to the general counsel. The attorneys in the Office of General Counsel act as in-house counsel for the university. They advise administrators acting on behalf of the university and represent the university in external administrative and legal proceedings.
"I am excited to continue serving my colleagues and clients in this role and am proud to be part of K-State's exemplary legal team," Large said.
Large first joined the Office of General Counsel in 2016. After a period of time working as an associate general counsel for Florida State University, Large returned to the K-State Office of General Counsel in a remote capacity in 2019. Large also previously served as a staff attorney and later chief legal counsel for the Kansas Department of Agriculture, as a civilian attorney with the Fort Riley Office of the Staff Judge Advocate, and as an assistant general counsel for the Florida Department of Education. Large earned his Juris Doctor and bachelor's from Florida State University and is licensed to practice law in Kansas and Florida.